David Cameron urges Britain to 'get back to work'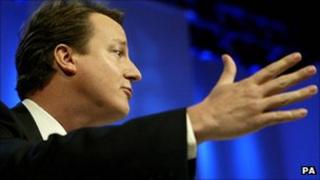 David Cameron was scheduled to speak at half past two but he kept the delegates and the press waiting - for half an hour.
But instead of building excitement, people seemed bored watching three videos as they waited for the Prime Minister.
He began slowly - his voice straining at times, as if the past week has taken its toll on him.
It was always going to be a difficult speech - coming against the backdrop of such gloomy economic figures.
His message was that: "The only way out of a debt crisis is to deal with your debts."
He said that's why households are paying off the credit card and store card bills.
Planning reform
When I interviewed the Prime Minister at the start of this week he denied they hadn't been able to get their message across on reform of planning legislation.
I put it to him they could risk some of their core Tory support in the South East because of it.
And it's obviously an issue that concerns him.
He said at the weekend he would no more risk the countryside than his own family.
He returned to that theme in this speech saying: "Our businesses need the space to grow - literally. That's one of the reasons we're reforming our planning system.
"It's hard to blame local people for opposing developments when they get none of the benefits."
He said: "We're changing that. If a new manufacturing plant is built in your area - your community keeps the business rates.
"If new homes get built - you keep the council tax. This is a localist plan from a localist party."
He said people who wanted to build businesses are "stuck in the mud of our planning system".
Growing the economy
And he had strong words for those against the changes: "To those who just oppose everything we're doing, my message is this - take your arguments down to the job centre.
"We've got to get Britain back to work."
Strong words not likely to appease organisations such as the National Trust, who have been embroiled in a very public row with the government on this issue.
Their big concern is that this government wants to link planning reforms to the need for economic growth.
Nothing he said today will change their view on that. But David Cameron says it's essential to grow the economy.
This conference speech coincides with a new opinion poll which suggests that most voters are not impressed by Mr Cameron's handling of the economy.
He and his supporters can only hope now that he's done enough with this speech to persuade the public that he - and the coalition - can be trusted with the economy.
But in order for that to happen they'll need to start seeing results - and soon.
Economic trust is the one key policy area where the Conservatives have persistently outperformed other parties.
Although the coalition is still more trusted than Labour with the nation's finances it will make uncomfortable reading for the PM.