Theresa May in deportation cat flap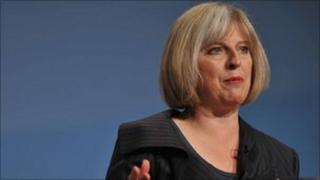 When a politician tells a conference "I am not making this up" it's usually a good reason to double check the facts.
And within minutes of Theresa May's comment that a pet cat had saved a South American man from deportation we heard disbelieving voices.
The problem for Mrs May was that those pouring scorn on her claim included representatives of Britain's top judges and her Conservative colleague Ken Clarke.
He told a fringe meeting: "I've never had a conversation on the subject with Theresa, so I'd have to find out about these strange cases she is throwing out."
"They are British cases and British judges she is complaining about.
"I'll have a small bet with her that nobody has ever been refused deportation on the grounds of the ownership of a cat."
Claws 4 moment
Let's remind ourselves of exactly what the Home Secretary said.
She was arguing against article 8 of the European Convention on Human Rights, and this was her Claws 4 moment (sorry!):
"The illegal immigrant who cannot be deported because - I am not making this up - he had a pet cat."
But the Judicial Communications Office, who says the case was first publicised more than two years ago, flatly contradicted this.
"This was a case in which the Home Office conceded that they had mistakenly failed to apply their own policy - applying at that time to that appellant - for dealing with unmarried partners of people settled in the UK," said a judicial communications office statement issued at the time of the case.
"That was the basis for the decision to uphold the original tribunal decision - the cat had nothing to do with the decision."
Work out what you think for yourself. You can download the original judgement here
The London based solicitor who dealt with the original case, Barry O'Leary, says his phone is now ringing off the hook - and he couldn't be clearer about the case.
"It was accepted by the Home Office representative at the hearing before Immigration Judge Gleeson that the policy should apply and any other errors in the initial decision by the judge (including too much detail on the cat) were immaterial."
"See paragraph 6 of the determination. It makes clear that it is the former policy DP3/96 which is the basis on which the appeal was won."
This is clearly a story with (furry) legs. Mrs May found herself staked out by TV camera crews as she tried to conduct local radio interviews, including one with BBC Berkshire's Phil Kennedy and me.
She's standing by her conference comments.
And she told me she's looking forward to eating the dinner that the Justice Secretary Ken Clarke has wagered.
She's insisting she has no regets about the feline tale.
It's got her more attention than her kitten heels ever did.