Riversimple hydrogen car trial in Shropshire and Herefordshire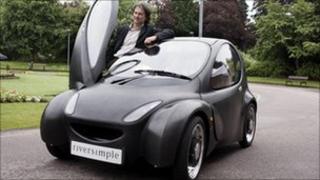 A Midlands eco-car company has said it will run a trial of hydrogen-powered cars in Shropshire and Herefordshire.
Riversimple, based in Ludlow, south Shropshire, said the 12-month trial would start towards the end of 2012.
About 30 vehicles would be leased under the arrangement, with the company gathering data from on-board computers.
It said it was sourcing funding to set up a £20m plant for production of the two-seater cars, which do the equivalent of 300 miles per gallon.
The cars would cost drivers about £250 per month, including fuel.
The vehicles, made of lightweight composites, have a maximum speed of 50mph and a range of more than 200 miles.
Hydrogen 'pioneers'
The company said it was now looking at where to site filling stations as part of the trial, although Shrewsbury and Hereford were "obvious candidates".
Designed by Herefordshire-based Hugo Spowers, just two prototypes of the car currently exist, one of which is at the London Science Museum.
Mr Spowers said: "Like it or not the age of the fossil fuelled car is nearing its end, and for places like Herefordshire and Shropshire to be pioneers as we look to the future is gratifying."
The trial, along with a previously announced urban equivalent in Leicester, will depend on small-scale production of the vehicles.
The project's backers include the family of Ernst Piech, part of the Porsche dynasty.
Last year, Riversimple also announced that its car would be redesigned by Chris Reitz, who was responsible for the Fiat 500.