Ian Huntley: Prisoner admits attacking Soham killer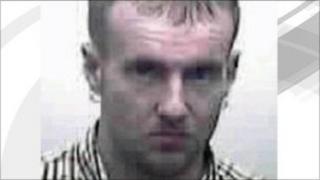 A prisoner has admitted trying to murder Soham killer Ian Huntley and the manslaughter of child murderer Colin Hatch.
Damien Fowkes, 36, used a homemade weapon to slash Huntley's throat in Durham's Frankland Jail in March 2010.
He also strangled Hatch with strips of bedding at Full Sutton Prison near York in February 2011.
Hull Crown Court court was told Fowkes showed "strong psychopathic traits".
Fowkes, from Northampton, attacked Huntley, who is serving a life sentence for the murder of 10-year-old schoolgirls Holly Wells and Jessica Chapman in 2002, while the killer was working on the healthcare wing.
The attack caused a "severe gaping cut to the left side of his neck".
'Child killer hatred'
The judge said the wound was 7in (18cm) long and required 21 stitches.
Graham Reeds, prosecuting, said Fowkes, who was serving life for armed robbery, asked a prison officer: "Is he dead? I hope so."
Mr Reeds said the weapon used was "fashioned from a razor that was melted on to the handle of a knife or some other plastic utensil".
Mr Reeds described Huntley as a "notorious child killer, both inside prison and in society in general".
He said: "The defendant has since expressed a particular hatred for child killers."
The court was told Hatch, 38, of north London, was killed while serving a life sentence for murdering a seven-year-old boy while on parole for a previous child sex attack.
Fowkes, who appeared in court surrounded by five prison officers, was initially charged with Hatch's murder but his plea of guilty to manslaughter was accepted on the grounds of diminished responsibility.
Hatch had a string of convictions from the age of 15 for assaulting young boys when he was jailed for the murder of seven-year-old Sean Williams in Finchley, north London, in January 1994.
Barricaded cell
Fowkes was in prison serving a life sentence for robbery which was handed down in 2002.
But the court heard his minimum tariff of five years and 220 days had already expired when he attacked Huntley.
The judge was told he killed Hatch on D Wing at Full Sutton. This is for vulnerable prisoners and Fowkes was there due to self-harming incidents.
The court heard Hatch was jailed for life in 1994, with a minimum tariff of 25 years, for the sexually motivated murder of Sean.
Mr Reeds said Fowkes barricaded himself and Hatch into a cell and told prison officers he would not kill him if they stayed outside.
The officers dealt with it as a hostage situation.
But, with the officers outside, Fowkes killed Hatch using strips of bedding as ligatures.
At one point, Fowkes told officers: "He's a nonce. He doesn't deserve to live."
He later claimed Hatch had contacted him by telepathy, asking him to kill him.
Mr Reeds said Fowkes said he was motivated to commit both attacks because "they were offenders against children".
He said Fowkes remarked: "They just do my head in. It was the same when I did Huntley."
The judge, Mr Justice Coulson, adjourned the case until Wednesday when he will sentence Fowkes.