PM admits tough task of selling planning reforms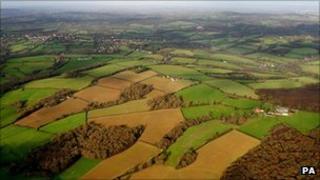 It's another week, another city and yet another party conference.
It's the final one of the autumn season and this time it's Manchester and the Conservatives.
They're a party in government and able to make policy announcements - so this week we've already heard about funding to encourage councils to re-introduce weekly bin collections.
And the Chancellor George Osborne has also found a spare £805m in efficiency savings to freeze council tax bills for another year in 2012-2013.
Critics say it's just playing to the gallery and will only save the average family just £72 in typical household bills.
Selling the policy
One of the most contentious issues in the South East though is the reform of planning legislation.
Although people understand the need to build more homes the government has been locked in an angry row over it with the National Trust, amongst others, particularly the presumption for sustainable development.
At the weekend the deputy chairman of the Conservative Party and Sevenoaks MP Michael Fallon admitted on BBC South East's Politics Show that they hadn't been able to sell the policy and said there may be a change in language when the final consultation ends later this month.
I put the issue to the Prime Minister when I interviewed him. But he said: "I don't accept that."
He said: "Actually, there is a demand in many villages that if we knew we could have a few extra houses that would help support the local school, the local post office, the local pub, we'd be happy for that.
"What we don't want - it's the fear of a massive development coming in.
"And through our new neighbourhood planning system that's going to enable that sort of development, more incremental, more sustainable to happen."
He said we must have a "sensible debate about what we mean by reforming the planning system".
Tough challenge
But when I pressed him saying that debate has been going on and the Planning Minister and Tunbridge Wells MP, Greg Clark, has been explaining the system, but Michael Fallon still admits they are at risk of losing some of their core vote in the South East, he concedes:
"We have a task on our hands to explain what we mean by reform of the planning system."
But he insists it's entirely different from the situation earlier this year when the Environment Secretary, Caroline Spelman, was forced to perform a u-turn and scrap the government's plans to sell off England's forests.
His message is - they may have had difficulty selling their planning reforms but it's a problem about perception and not about the policy.
The government will have to work hard to persuade voters in the South East that the reforms are not an attack on England's green and pleasant land.