A vision for Britain outside the European Union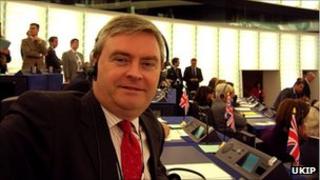 Another conference, another pamphlet on the future of the European Union and this one is calling very clearly for us to pull right out, right now.
David Campbell Bannerman, who left UKIP to join the Tories five months ago, is arguing that things could be better outside the EU.
"There's a lot of mythology about the EU," he says.
"This is the ultimate Plan B. It's a much bigger picture, that of our entire relationship with the EU."
It's a fascinating time for Eurosceptics, he told a fringe meeting at the Conservative Conference: "I would argue it is good for many countries to escape the prison of the EU."
He believes the EU is a political union and not an economic one and is delighted that before Christmas there will be a debate about our relationship with the EU in the House of Commons.
It's the first, he says, for 35 years.
Future vision
The idea of his paper is to put forward a positive vision, a credible alternative.
He wants to explode the myths that Britain would lose 3m jobs.
He tells me: "We could have a free trade agreement, 53 have already been approved, another 74 are planned, so why couldn't we have one?"
He doesn't believe we would lose influence either and that if we really wanted we could get out of the EU "in a day" by repealing the European Communities Act of 1972.
Although it's such a complete antithesis to the views held by their so-called coalition partners, the Lib Dem MEPs, it is a view with support at the Conservative Conference.
Referendum
Tory voters are telling Hague we should leave the EU now, according to a new YouGov poll publicised by Tory website, Conservative Home: with 68% of Tories wanting to leave and 74% wanting a referendum on UK membership.
"I would like an 'in out' referendum as soon as possible," says Mr Campbell Bannerman.
Although the Conservative leadership are trying to keep such an idea at bay, sceptics are becoming more vocal.
George Osborne won applause for praising those who campaigned to keep the pound, like "my friend William Hague" and told the conference floor: "Our neighbours rushed into the Euro without thinking about the consequences."
Just how far anti European sentiments could go will become evident in the House before too long.