MPs write to oppose Dartford toll increase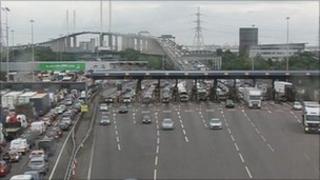 Eleven Kent MPs have written to the government to oppose planned toll increases at the Dartford Crossing.
The letter, submitted by Dartford's Conservative MP Gareth Johnson, calls for abolition of the tolls, due to increase for cars from £1.50 to £2.
Following November's increase, another hike, to £2.50, is planned in 2012.
The Department for Transport (DfT) has said the increased tolls will fund improvements to the tunnel and bridge linking Kent and Essex.
Mr Johnson said the crossing could be a positive thing for Dartford but instead was its nemesis.
"The levels of congestion at the Dartford Crossing are currently unacceptable," the letter says.
"However, in the absence of the tolls being completely removed, we support the substituting of the tollbooths with a free-flowing charging scheme," it adds.
"The best option for the Dartford Crossing is to remove the tolls in their entirety," said Mr Johnson.
"That would be best for local residents, it would be the fairest option for local businesses and it would actually bring investment into this area."
The letter is the MPs' response to the government's consultation on the increase in charges, which ended on 23 September.
According to the DfT, the crossing tolls bring in about £40m in profit each year.
It has said the extra revenue will be spent on improvements to the crossing.