Autumn heatwave takes England by storm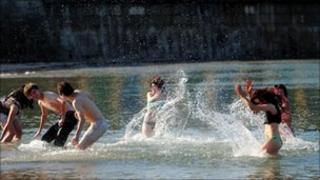 England is in the grip of a late September heatwave.
After another poor summer, temperatures have soared to almost 28C (82.4F) and are expected to carry on getting higher over the weekend.
The top temperature seen in England on Wednesday was in Gravesend, Kent, where it reached 27.1C (80.78F).
The Met Office said the hot weather was caused by a high pressure system pushing warm air north across France and towards the UK.
The high pressure is holding rain and wind coming in from the Atlantic away from the west.
Heatwave to continue
Paul Mott, meteorologist for MeteoGroup, the Press Association's weather arm, said the top temperatures would continue over the weekend.
"We are still on for some exceptionally warm weather, temperatures will probably reach 28C (82.4F) over the London area," he said.
"Central and eastern England could reach up to 27C (80.6F), so it is very warm indeed.
"That is a good 10C to 11C (18F to 20F) warmer than what we would expect for this time of year."
Temperatures are expected to remain in the mid to high-20s until next Tuesday.
In Northumberland, a lamb has been born early and a field of about 100 sunflowers have blossomed near Bamburgh castle.
However no records have yet been set, temperatures exceeded 28C (82F) on 21 September 2006 and the all-time high in the month of 30.6C (87F) was achieved in Hampshire in 1895.
Hotel chain Travelodge reported record occupancy levels for the weekend with a "stampede of bookings" for the weekend.
Winter preparations
Charlie Herbert from the firm said: "The unexpected heatwave this week has been fantastic for business, our coastal hotels across the UK are totally booked out."
The English wine industry is predicted to have had a good year with the late sunshine helping.
Robert Boutflower from Tanners Wine Merchants said: "An Indian summer is fabulous for English wine producers."
But despite the souring temperatures, councils are this weekend gearing up for the winter.
Plymouth City Council is putting its gritters on standby from 1 October due to the last two harsh winters.
While Sutton Council is making grit available to residents from Saturday.
Councillor Simon Wales from Sutton Council said: "It might seem a little strange to be handing out the free grit already, particularly when we're enjoying an Indian summer, but we have to be prepared."