Shrien Dewani's South Africa extradition approved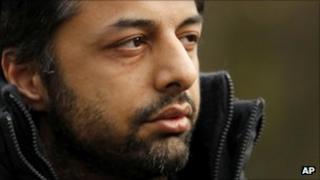 The home secretary has approved the extradition of a man accused of arranging the murder of his wife on their honeymoon in South Africa.
Shrien Dewani, who denies any involvement in the death of his wife Anni, 28, had opposed attempts to have him stand trial in South Africa.
A judge ruled the 31-year-old Bristol businessman could be extradited but Theresa May had to approve the move.
Mr Dewani has 14 days to lodge an appeal against the decision.
A Home Office spokesperson said: "On Monday 26 September the home secretary, having carefully considered all relevant matters, signed an order for Shrien Prakash Dewani's extradition to South Africa.
"Mr Dewani now has the opportunity, within 14 days, to appeal to the High Court against the decision of the district judge and/or the home secretary."
Cab hijacked
Mr Dewani's solicitors Hickman and Rose said they had "no comment" to make on the signing of the extradition papers.
Mrs Dewani, from Sweden, was shot after a cab the couple were travelling in was hijacked in the Gugulethu township last November.
Mr Dewani was released unharmed but Mrs Dewani's body was later found in the abandoned car.
At Mr Dewani's extradition hearing in August, District Judge Howard Riddle said the "court must consider the strong public interest in honouring our extradition treaty".
The judge, sitting at Belmarsh Magistrates' Court in London, added that he had "no doubt" that Mr Dewani was suffering from severe post-traumatic stress disorder and depression but was satisfied he would receive treatment in South Africa.
Mr Dewani, a care home owner, has been detained at a Bristol clinic.
He faces charges of murder, conspiracy to commit murder, robbery with aggravating circumstances and obstructing the administration of justice.
Mrs Dewani's uncle, Ashok Hindocha, said the family was very pleased with the home secretary's decision.
Last week Mrs Dewani's family handed a petition with more than 11,000 signatures to Mrs May calling for the extradition to go ahead.
Mziwamadoda Qwabe, 25, and Xolile Mngeni, 23, are charged with murder, kidnapping and robbery with aggravating circumstances and will go on trial at the Western Cape High Court at a date to be set next year.
Taxi driver Zola Tongo, 31, from Bothasig, Cape Town, has been sentenced to 18 years in jail for murder, kidnapping, robbery with aggravating circumstances and perverting the course of justice after agreeing a plea bargain.
In December, Tongo told Western Cape High Court he was offered 15,000 rand (£1,400) by Mr Dewani to kill his wife.