Yorkshire Dales National Park expansion plans agreed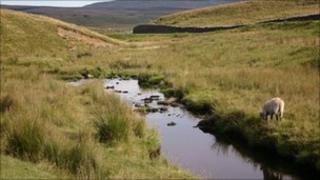 The boundaries of the Yorkshire Dales National Park are set to expand as officials from Natural England consented to the park encompassing another 162 square miles.
Documents proposed including the Orton Fells and River Lune.
Officials met in Sheffield and ratified the recommendations on Wednesday.
The plan now goes to Caroline Spelman, the Secretary of State at the Department for Environment, Food and Rural Affairs.
Yorkshire Dales National Park Authority said it was delighted at the "victory for common sense".
A consultation began in 2009 into revised boundaries for the Lake District and Yorkshire Dales national parks.
Now the Yorkshire Dales National Park encompasses, to the north, the Orton Fells, the northern Howgill Fells, Wild Boar Fell and Mallerstang.
To the west, the park now incorporates Barbon, Middleton, Casterton and Leck Fells, the River Lune and part of Firbank Fell and other fells to the west of the river.
House price effect
Local authorities, parish councils, interested groups and members of the public were asked for their views on the suitability of the areas for consideration as national park.
The status offers protection to the landscape, but critics claim it can force up local house prices.
David Butterworth, the chief executive of the Yorkshire Dales National Park, said: "We are delighted that Natural England's Board is now taking forward the process to extend the boundary of the Yorkshire Dales National Park.
"The farmers and landowners who, for generations, have lived and worked in these places have helped create the great natural beauty and many special qualities that visitors enjoy today - and that make the areas worthy of national park status.
"We believe these areas have many unifying features and characteristics such as the Settle Carlisle [railway] line, limestone pavements and hay meadows, as well as similar community issues such as affordable housing, access to services and sustainable communities."
Poul Christensen, Chairman of Natural England, said: "The decision to designate these areas is subject to confirmation by the secretary of state and we look forward to presenting our recommendations to her in due course."