Brough BAE job cuts: 'Thousands' more jobs at risk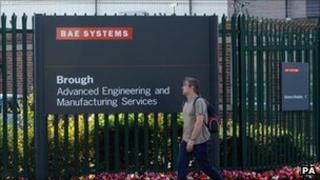 Business leaders have warned that the end of manufacturing at BAE Systems in East Yorkshire could mean "thousands" of job losses in the wider community.
BAE has announced that 900 jobs are to go at the defence contractor's plant in Brough as part of cuts across the UK.
It said 2,942 job cuts were needed in the UK to "maintain competitiveness".
Hull and Humber Chamber of Commerce said Brough was "almost a BAE town" and the job losses would have a "striking impact" on the wider economy.
'Devastating news'
Ian Kelly, chief executive of the Chamber of Commerce, said: "There are a lot of people in the supply chain to BAE in terms of local people.
"These workers need feeding every day, the canteen may get food in from local producers, workers buying from local newsagents, on site maintenance and so on.
"There is always a multiplier effect with the loss of jobs and usually that runs into thousands."
BAE said it had started a consultation about ending manufacturing at the Brough site, which currently employs 1,300 workers.
Parts for Typhoon fighter jets are made at Brough and Samlesbury, with final assembly taking place at Warton in Lancashire.
Council leaders described the job cuts at Brough as "devastating news for the local economy".
In a joint statement, East Riding of Yorkshire Council and Hull City Council said they were "very disappointed".
The two councils said they would do everything they could to help those affected.
Councillor Bryan Davis, from Brough and Elloughton Town Council, said the job losses would have a "massive effect" on the whole of the East Riding.
He said: "We know people from as far as Hull, Beverley and Bridlington come to this factory. It will have an effect on local shops, businesses and communities."
But Mr Davis said he was sure these communities would survive, as the "vast majority" of people in the area did not work at the BAE factory.
David Davies, Conservative MP for Haltemprice and Howden, said the government would put "every ounce of effort" into protecting as many jobs as possible at the Brough BAE plant.
However, he conceded it would be a "tough uphill struggle".
'Face-to-face'
"We've got a great deal of work to do. We've got to do everything possible to reduce job reduction but also work on the premise that we can't, and find some jobs and reskilling for 900 people," he said.
Alan Johnson, Labour MP for Hull and Hessle, said the workforce at the BAE plant in Brough was "worth fighting for".
"This is a little oasis of very skilled, well-paid jobs.
"This is an outstanding workforce, really high levels of flexibility. They are a low-cost operation, they are efficient," he said.
Godfrey Bloom, UKIP MEP for Yorkshire and North Lincolnshire, said the cuts were a "disaster".
Mr Bloom said: "The firm has already cut thousands of jobs over the last couple of years and now another 3,000 are going, including at sites in Yorkshire and Lancashire.
"The BAE workforce has specialist skills and the community around Brough relies on the defence industry for jobs."
One worker at the BAE plant in Brough criticised the way the news of the job losses had emerged.
"Having a leak in the Sunday papers, then leaving it until today, I am taken aback by BAE Systems. It is quite shocking that it happened like this," he said.
"We came in this morning and got an email, that is all we got. It could have been handled better. To find out like this stinks."
A spokeswoman for BAE said: "BAE Systems employees affected by today's announcement were invited to attend a face-to-face briefing this morning or telephone conference call where this was the only option.
"Following the briefings a company-wide announcement was sent to all employees."