East Anglian Air Ambulance seeks night time flying funds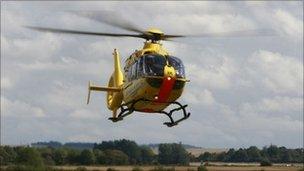 The East Anglian Air Ambulance is seeking extra funding to enable it to fly at night.
European regulations are being introduced in the UK next year to extend the operational hours.
Tim Page, chief executive of the service, said: "It will enable us to land at 'un-reccied' sites just as air ambulances in other European countries are able to do now."
The charity needs £1m to equip the helicopters to fly in darkness.
The UK is adopting the EU standards in April 2012, which are less stringent that the current ones issued by the UK Civil Aviation Authority.
The East Anglian Air Ambulance (EAAA), which serves Norfolk, Suffolk, Cambridgeshire and Bedfordshire, is tendering for a new company to provide its two helicopters which are based at Norwich and Cambridge airports.
The EAAA, which has a £4.2m annual budget, said it needed helicopters which could be fitted with infrared and white light equipment while the crew would need night vision goggles.
Mr Page said: "There's no dedicated air ambulance that's night-capable in the country and in the winter, when it gets dark, we're clearly missing a hugely important period.
"If we can raise the money, then we intend to provide this service from September or October next year.
"We're asking for a little bit extra, but we'll provide a lot more in return."
Kimberley Moreton, from Polstead, Suffolk, who used the service after a daytime horse riding accident, said: "I'm sure there are other people that need the services on a 24/7 basis, so if we can raise the money and get that going, that would be fantastic.
"It's such a worthwhile charity and I can't praise them enough."
Related Internet Links
The BBC is not responsible for the content of external sites.