Hollywood filmmaker turns spotlight on Margate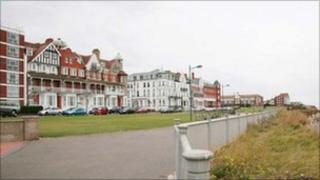 A Hollywood filmmaker is returning to his roots to make a documentary about the Kent seaside town he grew up in.
Arnold Schwartzman, who directed Genocide, which won an Oscar in 1982, was evacuated from London's East End to Egham in Surrey during World War II.
His father, who was head waiter at The Savoy hotel, later moved his family to Margate and set up a boarding house.
"The film will be a nostalgic love letter to Margate, but also looking to the future," he said.
"I am calling it Margate Paradiso because one of my favourite films was Cinema Paradiso.
"Most of the material will be archive footage with, of course, some live action."
Filming on beach
Mr Schwartzman is giving a talk about the film on Sunday at the Walpole Bay Hotel in Cliftonville, Margate, where his father later became the manager.
He said he first became interested in filmmaking as a young boy when he saw the 1948 film The Weaker Sex being made on Margate beach.
He later went on to Thanet School of Art and Canterbury College of Art, now part of the University for the Creative Arts which has campuses across Kent and Surrey.
He is currently a governor of the university.
"I frequently return to the UK and go down to Margate," said Mr Schartzman, who was made an OBE in 2002 for services to the UK film industry in the US.
"The town is picking up rapidly, with the Turner gallery and the development of Dreamland and so on. So I think my planned documentary is quite timely."
Mr Schartzman said filming was expected to take place early in 2012, with the feature-length documentary being shown in local cinemas next summer.
Genocide, about the Holocaust, won a Oscar for best documentary feature.