It's a fair cop: Lib Dems reminded of their jobs promise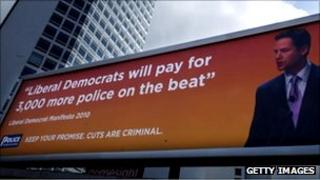 At first glance it looked like the Liberal Democrats had splashed out a bit more than they normally do to welcome members to the party's autumn conference in Birmingham.
A floodlit giant poster featured a massive picture of Nick Clegg making a speech. The accompanying quote was in metre-high letters.
But this was not a Liberal Democrat poster despite every delegate having to pass it to reach the front door of the glittering International Convention Centre.
This was the Police Federation painfully reminding the Deputy Prime Minister that student tuition fees was not the only issue where he had made a complete U-turn as soon as he joined the government.
'Immense harm'
The rank-and-file police officers' "union" took the words straight out of a document that must now make painful reading to many Liberal Democrats - the party's 2010 General Election manifesto.
"Liberal Democrats will pay for 3,000 more police on the beat," it had boldly promised.
In fact, coalition government policy is now to cut police budgets by an average 20% by 2015.
In South Yorkshire, the region where Nick Clegg now has his seat, the force's Police Federation leader Neil Bowles says it cannot be done without causing immense harm to safety on the streets.
"In real terms it would mean police staff - both officers and police staff colleagues - in Rotherham and Doncaster just disappearing, and Barnsley and Sheffield staff having to cope with the whole county," he says.
He paints an even bleaker picture of what the full impact will be with other cuts affecting prisons, probation and youth services.
Unlikely alliance
Just up the road in Barnsley local Labour MP Dan Jarvis agrees.
In the week running up to the Labour Party Conference in Liverpool he has spent every day with bobbies on the beat or following police operations.
"I have yet to meet a single person who agrees that police numbers can be cut," he told me.
"In fact most people I have spoken to here in Barnsley want more uniformed officers on patrol."
Labour and rank-and-file police officers are an unlikely alliance. Just 18 months ago they were at loggerheads as Gordon Brown's government planned to cut police budgets by 12%.
"Twelve per cent is very different to 20%," says Dan Jarvis.
Back at the Liberal Democrat's conference did the Police Federation's poster make an impression?
"I have lots of meeting to go to so I don't read any of the posters," said Bradford East Liberal Democrat MP David Ward when I caught up with him in Birmingham.
"The police assure us that this can be done without compromising front-line operational work.
"After all, this is not going to happen tomorrow and in the region crime has been falling for some time now."