Frimley Park Hospital apology for Berkshire woman's death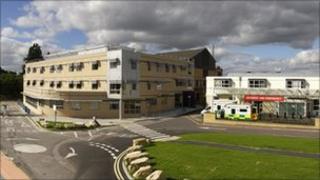 The family of a Berkshire woman who died after a serious asthma attack has received a six-figure compensation settlement after a hospital trust admitted it was negligent.
Alexandra Tidd, 44, from Sandhurst, was admitted to Frimley Park Hospital in March 2006 struggling to breathe.
Following "inadequate" treatment at the Surrey hospital she suffered a cardiac arrest and lapsed into a coma.
Frimley Park Hospital apologised and said it was making improvements.
Michael Tidd said his wife was a "wonderful woman" and that his family missed her "every day".
"No amount of money can ever replace my wife and the mother of our three sons or the emotional damage Frimley Park Hospital has caused to our lives."
Patricia Fearnley, a lawyer from Thomson, Snell & Passmore which represented the family, said the clinicians looking after Mrs Tidd did not appreciate the severity of the situation until it was too late.
She said experts said staff at the hospital carried out procedures which did not help the patient, and wasted time when she did deteriorate markedly.
'Shocked' at coma'
The hospital also failed to inform Mrs Tidd's husband of the severity of her condition.
By the time he reached the hospital he was "shocked" to learn his wife was in a coma. Tests later showed she could not be saved and her life support machine was switched off.
Frimley Park Hospital NHS Foundation Trust said all staff involved in caring for Mrs Tidd were "deeply sorry" and "totally committed" to learning from the shortcomings identified in her care.
It said it had undertaken a "detailed review" after realising at an early stage there were failings in aspects of Mrs Tidd's care and treatment.
An action plan was subsequently implemented to make improvements in its treatment of patients and staff communication with their families.