Patients moved as Kent and Sussex Hospital closes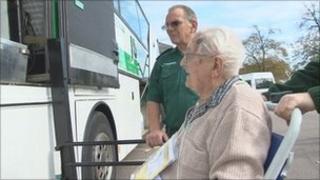 Specialist ambulances are being used to move hundreds of patients out of the old Kent and Sussex Hospital.
The 80-year-old hospital, in Mount Ephraim in Tunbridge Wells town centre, closes on Wednesday with patients moving to a new hospital in Pembury.
The Jumbulance Trust provided an ambulance coach which made four trips, transferring 100 patients on Monday.
Another 80 will be moved on Tuesday with the final 20 most frail people moving on Wednesday.
The move has been taken six months to plan.
"It is certainly the biggest move I have ever done," said Glenn Douglas, chief executive of Maidstone and Tunbridge Wells NHS Trust.
"Some years ago I was part of the move from the old All Saints' Hospital in Chatham into Medway Maritme Hospital, so it is not a totally new experience to me."
The first phase of the new £230m Tunbridge Wells Hospital opened in January, when the women's and children's department moved in.
The final phase sees the opening of Accident & Emergency with a trauma unit for emergency surgery.
All patients at the new hospital have single en suite bedrooms, most with views over the surrounding forest.
The hospital will serve people from Maidstone, Sevenoaks and Tunbridge Wells in Kent and Crowborough in East Sussex.