Sailor who murdered officer on submarine HMS Astute jailed for life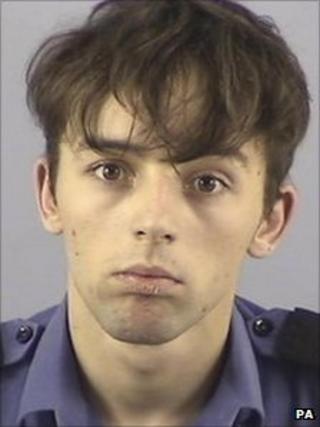 A Royal Navy serviceman who shot dead a senior officer on board a nuclear submarine has been jailed for life.
Able Seaman Ryan Samuel Donovan, admitted murdering Lt Cdr Ian Molyneux, 36, of Wigan, Greater Manchester, on board the nuclear submarine HMS Astute.
He also injured a second crewman, Lt Cdr Christopher Hodge, while the sub was docked in Southampton on 8 April.
Donovan, 22, of Dartford, Kent, was told he must serve at least 25 years by the judge at Winchester Crown Court.
Donovan, of Hillside Road, also admitted the attempted murders of Lt Cdr Hodge, 45, Petty Officer Christopher Brown, 36, and Chief Petty Officer David McCoy, 37.
Donovan fired six shots from an SA80 rifle in the control room as local dignitaries, including Southampton City Council's mayor, chief executive and leader, were being given a tour of HMS Astute, the court heard.
'Murderous onslaught'
The sailor could have killed more people if city council leader Royston Smith had not wrestled him to the ground and disarmed him, the court was told.
Passing sentence, Mr Justice Field told Donovan: "In killing that officer, you robbed him of a bright future within a loving family.
"Your murderous onslaught was only brought to an end by the intervention of two civilians.
"There is no doubt their intervention prevented further deaths and serious injury," he added.
Prosecutor Nigel Lickley QC said Donovan fired four shots at the two petty officers but they were not hit.
"Lt Cdr Molyneux reacted to the noise of the shots. As he turned to tackle the defendant he was shot in the head at very close range and died instantly," Mr Lickley said.
"That was shot five. The defendant stepped over the body of Lt Cdr Molyneux and continued his progress towards the control room."
Donovan entered the control room where Lt Cdr Hodge was shot through the body and seriously injured, the court heard.
He was then wrestled to the ground by the council leader Mr Smith and the council's chief executive Alistair Neill.
'Heartbreaking sadness'
Mr Lickley said: "There can be no doubt they displayed remarkable courage that day - acting against an armed man.
"We will not know how many more he would have killed if he had not stopped."
Donovan had been resentful after being told he would not be attached to the Royal Fleet Auxiliary ship Cardigan Bay because he had disobeyed orders to clean part of the submarine, the court heard.
But the previous year Donovan had told a colleague he was trying to "create a massacre in the control", the court heard.
He told another crewmate: "I am going to kill somebody", when he returned to the sub after two days of drinking in Southampton, the court was told.
At 03:00 BST on 8 April, Donovan passed a sobriety test, which involved an officer smelling his breath, when he woke up for his guard duty, despite having been drinking before his shift.
He was then assigned a gun.
Lt Cdr Molyneux's widow Gillian described her husband as "utterly devoted" to his four children.
She said after the case: "There is no pleasure or relief for me today - only the ongoing, heartbreaking sadness for the loss of Ian.
"I find huge comfort in the abundance of love and support I have received from my family, many friends, Ian's colleagues in the Royal Navy.
"I will now try to rebuild my life with my gorgeous children and the eternal memory of Ian - my hero and true love."
The submarine was berthed at the Eastern Docks on a five-day official visit and had been just been visited by a school group shortly before the shooting.
The 97m (318ft)-long craft is the UK's newest nuclear-powered attack submarine and joined the Royal Navy fleet in August 2010.