Dale Farm: History of turmoil at Essex travellers' site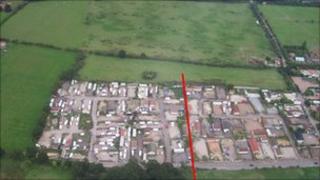 The planned evictions at the UK's largest illegal travellers' site, at Dale Farm in Essex, follow a 10-year legal battle.
The row centres on 51 illegal pitches, home to up to 400 people, on the site at Crays Hill, near Basildon.
They were built without planning permission and Basildon Council says they must be removed.
Travellers and their supporters have said they will resist peacefully when evictions begin on Monday.
However, there will be a large police presence in case of any trouble.
Denied permission
The Dale Farm controversy dates back to the 1970s when Basildon Council gave planning permission to 40 English Romany families to live beside what was then a scrapyard.
In 1996 scrapyard owner Ray Bocking, denied permission to carry on his business, sold Dale Farm to an Irish travelling family for £122,000.
By 2001, a growing number of families were moving in and various planning breaches were reported, but no action was taken by Basildon Council.
In 2005 the council voted to take action over planning breaches, but a travellers' delegation went to Number 10 Downing Street and were given a two-year reprieve.
'Fairness' issue
In 2006 a public inquiry was held. Property prices in the village of Crays Hill were estimated to have slumped.
The following year Basildon Council voted to evict 14 families.
In 2008 the travellers staged a legal challenge and in 2009 the High Court ruled that the council's plans were unlawful, but that judgement was overturned by the Court of Appeal.
In March this year Basildon Council voted to go ahead with the eviction.
The Conservative-run authority has been backed by Prime Minister David Cameron, who said it was an illegal development and "those people should move away".
'Abusing the law'
But the decision has been condemned by a United Nations committee which called on the government to suspend the planned eviction.
The Committee on the Elimination of Racial Discrimination said evicting travellers from Dale Farm would disproportionately affect family life.
And this week Professor Yves Cabannes, a former UN adviser on forced eviction, said the council was "abusing the law" and violating human rights.
The travellers are supported by protesters who have established their own camp at Dale Farm and have pledged to help the residents resist the bailiffs.
The council said it had exhausted the judicial process and had no option but to clear the site.
On Friday a last-ditch bid to halt the clearance of the site was rejected by an appeal judge.