Councils criticised for failing to buy from local firms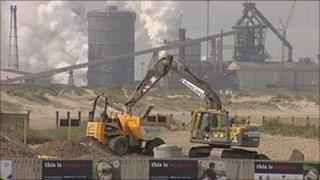 If anyone was going to support businesses in an area, you would think it would be the local councils.
But a survey for the Politics Show suggests that councils in the North East and Cumbria have an uneven record when it comes to keeping contracts local.
We asked councils to tell us what proportion of their contracts they award to businesses based in the North East or Cumbria.
And we looked at whether that proportion had fallen or risen in recent times.
Local firms
Some have a good record.
Hartlepool placed 62% of its contracts with North East businesses in 2010/11, up from 49% the previous year.
Durham (57%) and Northumberland (52%) also topped the 50% mark.
But others had actually seen a fall in the proportion of the contracts they had awarded to local firms.
Carlisle City Council handed just 31% of its work to Cumbrian companies last year compared to 46% in 2009-10.
Middlesbrough awarded 46% of contracts to North East businesses in 2010-11, compared to 54.5% the previous year.
And Redcar and Cleveland Council placed 49% of its contracts regionally in 2010-11 compared to an impressive 66% in 2009-10.
The council says it does like to support local firms, but is hide-bound by a bidding process which compels local authorities to look for the "best value" bid.
Of course, there will be times when a local firm doesn't offer the cheapest tender, and at a time when councils say they are short of funds, every penny counts.
Helping the region
It is possible that council taxpayers might prefer to see bills come down rather than award contracts to local companies who are charging more.
But at a time of rising unemployment, shouldn't the region also be looking to help itself?
The North East Chamber of Commerce certainly thinks so and wants to see more contracts kept in the region.
And Redcar's Liberal Democrat MP Ian Swales believes his local council should be doing more.
He said: "I do think they should be looking at a better definition of value.
"Keeping money in the area stimulates employment and other types of activity and is part of the value that can be generated through these contracts."
Mind you, at least the councils mentioned above responded.
Cumbria and Gateshead said they didn't keep data on whether contracts were awarded locally. Does that indicate that helping local firms is not a priority?
A spokesman for Gateshead Council said: "Unfortunately at the present time we do not have this information as the systems and data we hold does not map supplier post codes to current contracts.
"However the council is currently working towards upgrading its systems to enable this data to be captured and recorded in the future."
Other councils have failed to provide them too including Darlington, Sunderland, Stockton (who said compiling it would be too expensive), North Tyneside, South Tyneside and North Yorkshire.
It does seem strange that some local authorities have this data readily to hand while others struggle to provide the information.