Thames Valley Police made no hunting prosecutions last year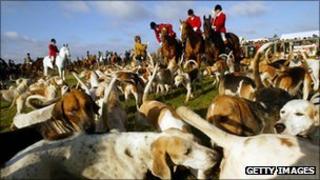 Anti-hunt campaigners have criticised Thames Valley Police after it was revealed the force made no prosecutions under the Hunting Act last year.
Thames Valley Police, which covers Buckinghamshire, Berkshire and Oxfordshire, received 71 calls in the past 12 months about hunt activity.
Although the calls generated six crime complaints, none of these were crimes committed under the Hunting Act.
Police say they only attend hunts if there is a breach of the peace.
Joshua Kaile, of the League against Cruel Sports, said he was "not surprised" by the number of complaints.
He said: "What is surprising is that these complaints are not being acted upon in the way they should be."
Fox hunting with dogs was outlawed in England and Wales in 2005.
However, it is still legal to drag hunt, which involves dogs following a scent laid along the ground by members of the hunt.
Christopher Austen, joint master of the Kimblewick Hunt, said many of the complaints being made were "spurious" and came from "one or two people".