Concern as pylon plan threatens Lake District landscape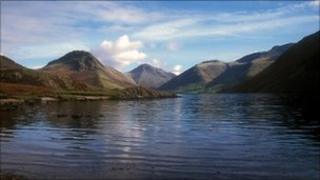 There's growing concern in Cumbria that a trail of electricity pylons could blight one of the most beautiful landscapes in Britain.
The network of pylons will be needed to transfer electricity from a new generation of nuclear power stations and offshore wind farms on the west coast.
The problem is the existing infrastructure won't be good enough to cope with the amount of energy generated by new nuclear stations at Sellafield and Heysham, let alone the new turbines.
Extra cost
But that raises the prospect of a trail of pylons extending through the Lake District and affecting some of the nation's favourite views.
Of course, there is a potential solution - the power lines could all be buried underground.
That though is far more expensive, and it would be energy consumers who would have to meet the extra cost.
The National Grid says it will look at burying some of the lines, but the cost means much of the cabling is likely to be above ground.
That is worrying some.
Cumbria county councillor Tim Knowles said: "Cumbria does see itself as a place where low carbon energy generation can be focused, but all of that needs much more powerful grid connections.
"What we have to have is an acceptable extension to the National Grid. We do not want large pylons marching across all of our beautiful countryside."
Open countryside
The National Grid has now begun looking at potential routes for those pylons across Cumbria.
It promises to consult on the routes next spring, but it is hard to see how it can avoid hitting local opposition as some pylons will have to be placed in open countryside.
For that reason, attempts are also being made to see if we can be persuaded to fall in love with pylons.
A competition is being held to look for new pylon designs, to see if they can be made more appealing, and more sympathetic to the countryside.
Six potential designs have been short listed and have been put on display at the Victoria & Albert museum in London.
A glance at them does reveal some interesting designs. They are certainly more appealing than the existing design - but there is no getting away from the fact that they are pylons, and they will look alien to most rural landscapes.
Energy bills
But the alternative - burying cables and ramping up electricity costs - isn't an attractive one either.
At a time when energy bills are already soaring, how willing are we to pay even more to ensure the Lake District is kept free of power cables?
The Penrith and the Border Conservative MP Rory Stewart believes some people will have to put up with pylons.
He said: "How much more is the public prepared to pay in order to protect the landscape and national parks, in order not to live under electricity pylons?
"I think the answer will have to be compromise. We can bury some of it, not all of it.
"Some areas are probably going to have to accept the fact there are overhead pylons, because it's not just affordable for everything to be buried."
The Politics Show will be looking at the issue on Sunday 18 September at 1.40pm.