East Midlands best modern buildings picked in vote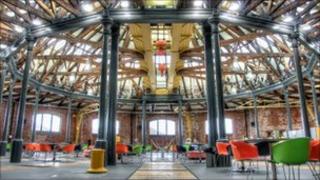 A fishing lodge, a museum, a theatre and a restored steam engine workshop have been named among the best modern architecture in the East Midlands.
More than 15,000 visitors to a regional roadshow were polled on their favourite new buildings from the past 50 years.
Winners included Derbyshire's Roundhouse campus and Multi-Faith Centre, Nottingham Playhouse and The Collection museum in Lincolnshire.
Thornton Fishing Lodge and a John Lewis store both won in Leicestershire.
The roadshow, organised by the Royal Institute of British Architects (Riba), stopped at 16 venues in the East Midlands over the past year.
Visitors were asked to pick their favourite buildings from examples put forward by the organisation.
Historic surroundings
Derby College's Roundhouse campus opened in 2009 after the former railway workshop was restored following years of disrepair.
It is now used as the main vocational base for the college.
Principal David Croll said: "We're absolutely delighted. The building has been here for two years and it fills so many different purposes.
"When we first saw the building in its state of decay it was quite hard to believe we would arrive where we have today.
"This accolade shows us the whole mission was worth it."
The Collection museum in Lincolnshire opened in 2005 and has won numerous awards and praise for blending in with its historic surroundings.
The Fishing Lodge, built on the banks of Thornton Reservoir in Leicestershire, is a wooden building in the shape of an upturned boat while the eye-catching John Lewis store in Leicester's Highcross centre features metallic swirls.
Built in 1963, Nottingham Playhouse was one of the oldest buildings in the exhibition.
The theatre's bold design has proved popular with visitors over several decades and was bolstered by the addition of Anish Kapoor's Sky Mirror sculpture in 2001.
Derby's Multi-faith Centre, at the University of Derby, was praised for sitting well within its landscape and representing the building's purpose of bringing different faiths together.
Other East Midlands buildings highlighted in the Riba roadshow included Derby's Quad arts centre, the Conkers Discovery Centre in Leicester's National Forest and the University of Nottingham's Jubilee campus.
Mike Baulcombe, regional director of the Riba, said, "This exhibition has proved a tremendous success in raising awareness of the superb contemporary architecture we have here in the East Midlands."