London 2012: Stoke Mandeville hosts the Paralympic torch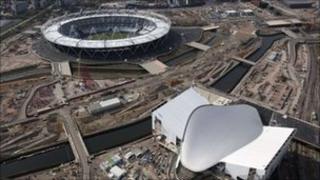 The Paralympic Flame is to be created in a ceremony at Stoke Mandeville Stadium on 28 August 2012 from flames to be lit in the UK's four capitals.
The town is the penultimate venue for next year's Paralympic torch relay .
Buckinghamshire County Council chairman Mike Colston told the BBC: "It's a real honour to be welcoming the torches to Stoke Mandeville.
"What an exciting opportunity for our residents to celebrate the spirit of the Paralympics."
Over the 2012 August Bank Holiday weeked, flames will be lit at sites in London, Belfast, Edinburgh and Cardiff.
These will then converge on the stadium, seen as the Paralympics' birthplace , for the special ceremony.
The flame will then be taken on a 24-hour relay from Buckinghamshire to the Olympic Stadium in east London for the 2012 Paralympic Games opening ceremony.
Details of what will happen with the torch when it arrrives at Stoke Mandeville are still being worked out.
The torch will be of similar design to the 2012 Olympic torch but with a few modifications.
Sebastian Coe, chair of London Organising Committee of the Olympic and Paralympic Games (Locog) said: "The London 2012 Paralympic Torch Relay is a tribute to paralympians and their inspirational stories of courage and determination and a celebration of teamwork right across the UK."