Dale Farm: Where can the travellers go?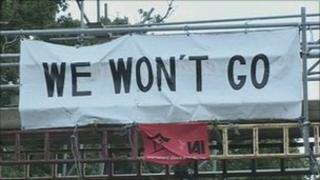 It has been part of the Essex landscape for 10 years but on Monday travellers are due to be evicted from the illegal site, Dale Farm.
After a decade-long legal battle Basildon Council finally has the go-ahead to clear the residents from unauthorised properties at the former scrapyard.
Although part of the site, near Basildon, is legal more than 80 properties have no planning permission and up to 400 people are said to be living there illegally.
So where exactly can they go?
BBC online research has shown that of the snapshot of local authorities contacted across England, hardly any pitches were available. Some had none at all.
'Breaking the law'
There are about 5,000 legal pitches at council sites across England, according to the latest statistics from the government, but most of them are in use.
There are also privately-run sites that already hold about 8,300 caravans.
Tony Ball, Conservative leader of Basildon Council, said: "Travellers have been made aware of unoccupied sites up and down the country, and others in Essex, there are even a number of pitches available on the legal site next to Dale Farm.
"They can also move to one of the many private sites."
He acknowledged there was a "risk" travellers would set up again illegally.
"We know the travellers do own other pieces of land which do not have planning permission, but again they will be breaking the law."
There has also been an offer of council accommodation but that is not suitable for travellers, according to Joseph Jones from the Gypsy Council.
He said: "The same way that when people were flooded out of their homes in the north of England not so long ago and relocated to fields with static caravans, after a period of time people were saying they were going crazy, they couldn't live in a static, they were brought up in a house; that is their cultural bias, we can understand that.
"That is the same situation for people who were born, brought up in and always have lived in static caravans.
"It is bad for their health if they are forced to live in a situation they are not comfortable and happy in, their physical and mental health will suffer."
Unable to win
As for the travellers themselves, only a few families have moved out since the eviction notice was served. Most appear to be planning on going nowhere.
One of them, Kathleen McCarthy, said: "They are treating us like animals, we never wanted to break this law, we had meetings, we begged Tony Ball, we wanted a peaceful solution, we wanted to find a piece of land but they couldn't find anything.
"We identified land and still they said 'no'. No matter how we try not to break the law we will never be able to win this."
BBC News contacted 30 local authorities across England and found that almost every one that operated travellers' sites was running at almost full capacity. Many had no pitches available at all.
The site offering the most room was run by Nottinghamshire County Council. It has 16 pitches, five of which are occupied and 11 of which are vacant. Dale Farm residents will need about 80 pitches.
Mr Ball said: "We have made the travellers aware of what is available, for example there is room at St Helens but they have told us they do not wish to move to the North West."
Fight on
A spokesman for the Department of Communities and Local Government said part of the site was in breach of planning law and the council had done nothing wrong.
"It has taken 10 years of failed negotiations and legal process to reach this point, and the unprecedented level of unauthorised development on greenbelt land has severely damaged community relations."
Travellers argue it is not greenbelt land but a scrapyard they made their home.
When asked how the travellers would react when the evictions begin, Mary Nolan, 24, who lives on the site, said: "We will go to the very end."
That "very end" is about to begin.