North MP boundary changes could turn Blair seat blue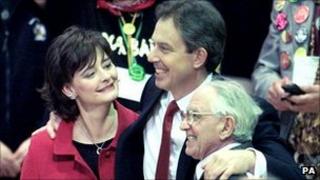 In the last 24 hours a host of journalists and MPs have been poring over the minutiae of boundaries.
It's all because the Boundary Commission has published a list of proposed new parliamentary seats.
They have been asked to find a way of reducing the number of MPs and standardising the size of their constituencies.
The North East will lose three seats; Cumbria will lose one, as the number of seats in England is cut from 533 to 502.
Conservative target
But no seat in our region is left untouched, with some undergoing huge transformations.
One of the most eye-catching changes could see Tony Blair's old solid labour Sedgefield seat transformed into a winnable Conservative target.
But there are some other decisions which will make life uncomfortable for sitting MPs.
Some communities may also become a little confused as they suddenly find themselves grouped with areas they have little connection with.
So let me see if I can deal with this from area-to-area. Apologies if it seems complicated and confusing at times - that is because it is!
Northumberland
The county effectively loses one of its four seats.
Proposed new seats:
Berwick and Morpeth - Sir Alan Beith's patch effectively gains Morpeth from the current Wansbeck seat. Remains a Lib Dem-Conservative battle.
Hexham - gains Rothbury, and rural parts of Gateshead (Ryton, Crawcrook, Rowlands Gill), but loses Haltwhistle and South Tynedale; should still be a Conservative seat but the Lib Dems may have been helped by the changes. It becomes the biggest seat in England geographically.
Blyth and Ashington - combining parts of what are currently Blyth Valley and Wansbeck. Likely to be a safe Labour seat.
Cramlington gets put into a Tyneside seat (see below).
Tyneside
Nine seats become eight, with some huge changes to the seats. Three MPs in Jarrow and Gateshead will be competing for two new seats.
Proposed new seats:
Whitley Bay - Will include the town as well as Monkseaton, Killingworth and Battle Hill. Also takes Holywell from Northumberland. A Conservative-Labour battleground. Might help the Tories.
Newcastle upon Tyne North and Cramlington. Four Newcastle wards, three North Tyneside wards, and six wards from Northumberland. Probably a Labour seat, but a little unpredictable.
Newcastle upon Tyne East and Tynemouth - Tynemouth, North Shields and Wallsend combine with some of what's already Newcastle East - Byker, Heaton and Walker. Likely to be rock solid Labour.
Newcastle upon Tyne Central - Includes very little of what's in the current seat. Takes in Jesmond, Gosforth, North Heaton, plus Benton and Northumberland from North Tyneside. If the Lib Dems could have designed a Newcastle seat, this would have been it. Before 2010, they would have been confident of pushing Labour, but will they be in a position to do so in 2015? Labour-Lib Dem battleground, but Labour remain favourites.
Newcastle upon Tyne South - Some strong Labour areas (Benwell, Scotswood, Elswick) combine with some where the Lib Dems have had success (Westerhope, Lemington). But with the Lib Dems in retreat at the moment, this looks a safe bet for Labour.
South Shields - gains Boldon Colliery, Cleadon and East Boldon from Jarrow. Will remain a safe Labour seat for David Miliband.
Jarrow and Gateshead East - Most of the current Jarrow seat plus four wards from the existing Gateshead constituency (including the town centre). Safe Labour seat.
Gateshead West - A carve-up of much of the current Blaydon constituency and the western half of the Gateshead seat. Labour seat.
Wearside
Retains three seats, with some boundary changes.
Proposed seats:
Washington - All of the existing Washington and Sunderland West constituency, plus Lamesley and Birtley from Blaydon. Safe Labour seat.
Sunderland - Largely unchanged from the current Central seat. Labour will be confident of retaining it, although the Conservatives will still challenge.
Houghton-le-Spring - Much the same as current Houghton and Sunderland South, plus Ryhope. Safe Labour seat.
County Durham and Darlington
Currently with seven seats, and will keep those but to do so, some parts of Teesside and Northumberland will come into its constituencies.
Proposed seats:
Consett and Barnard Castle - Includes the two towns mentioned, and gains Haltwhistle and South Tynedale from Hexham. A very rural seat which will give the Conservatives some hope. Some will raise eyebrows though about a huge geographical seat which runs from Haltwhistle to Barnard Castle. Likely to remain Labour though.
Bishop Auckland - Same name but big changes. Gains Crook from North West Durham, and Spennymoor from Sedgefield. Loses Barnard Castle, and much of Weardale. Looks like a solid Labour seat.
Chester-le-Street - Similar to existing North Durham seat, gaining some wards from North West Durham. Safe Labour seat.
Durham - The existing city constituency plus Ferryhill and Trimdon (Tony Blair's old stamping ground). That brings in Labour voters and will make it harder for the Lib Dems to win the seat.
Easington - Largely unchanged. Very safe Labour seat.
Darlington - Gains Heighington, Coniscliffe and Hurworth from Sedgefield. Likely to remain notionally Labour, but makes it more winnable for the Conservatives. Probably a marginal. The current MP Jenny Chapman thinks it gives her a notional majority of around 1,500.
Sedgefield and Yarm - As well as Sedgefield, this annexes large parts of the existing Conservative Stockton South seat, including Yarm and Ingleby Barwick. This is a winnable seat for the Conservatives but with large numbers of Labour voters in Newton Aycliffe, it could be a fierce battle.
Teesside
With Stockton South carved up, Stockton effectively loses a seat. All the seats again face changes though.
Proposed seats:
Stockton and Billingham - takes in all of Stockton town now. Safe Labour seat.
Middlesbrough - Gains Thornaby from Stockton South, plus Ladgate and Marton from Middlesbrough South. Loses four wards to the Redcar seat. Very safe Labour seat.
Redcar - Some gains from Middlesbrough, and Middlesbrough South. On past history a safe Labour seat, but of course the Lib Dems hold Redcar now, and will remain locked in combat with Labour here.
Middlesbrough South and Guisborough - Much of the existing seat but I understand the Conservatives believe some of the changes will help make this more marginal. Labour-Conservative battleground.
Hartlepool - Largely unaltered. Labour seat.
Cumbria
Six seats become five. The biggest loser is Lib Dem President Tim Farron. The Westmorland and Lonsdale seat he has worked so well is carved in three. With Kendal combining with Penrith in one seat, there's the prospect of Farron having to take on rising Conservative star Rory Stewart to survive.
Proposed seats:
Barrow-in-Furness - gains Ulverston and Grange from Westmorland and Lonsdale. Will help the Conservatives challenge Labour.
Carlisle - Largely unaltered but gaining some parts of Penrith and the Border, such as Longtown. Likely to help the sitting Tory MP, but will remain a Conservative-Labour battleground.
Copeland and Windermere - Loses Keswick which it had little in common with, but gains Windermere, which it also has little in common with. Hard to call this one, May become a three-way fight. Guardian suggesting a small Conservative majority on 2010 figures.
Kendal and Penrith - Large parts of Westmorland and Lonsdale combine with Penrith and the Border. An intriguing fight likely between the Lib Dems and Conservatives.
Workington and Keswick - This seat gets Keswick back which will make it more marginal, and gains some of the rural areas west of Penrith, and Dalston on the edge of Carlisle, but still looks to be a safe bet for Labour.
All of this analysis comes with a big health warning as no detailed number crunching has been done yet. (For that reason, feel, free to take issue with what I have said).
These are also only proposals at the moment. A consultation follows before they are finalised in 2013.
Wholesale change seems unlikely but even small changes could alter seats significantly.
Effectively though, Labour are the biggest losers in the region, and I think the Conservatives may be the happiest.
It certainly creates some tighter contests, but also some very large seats geographically.
In some areas, MPs will now be gauging whether they have a seat to inherit, and whether it is more or less winnable than it was.
And then they may also be faced with some tough choices.
Their official job will be to look after their existing constituency, but many will also be keen to build a profile in areas they will need to win over to stay in parliament beyond 2015.
You can find the full details here.