Middlesbrough MP Sir Stuart Bell fights laziest MP tag
Richard Moss
Political editor, North East & Cumbria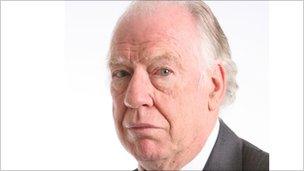 First there came local newspaper claims that 100 calls from a reporter to his office all hit an answering machine.
And now we have learned that the Labour party is also asking for answers from Sir Stuart.
Ed Miliband's office has told the BBC that the Chief Whip Rosie Winterton has had a "stern conversation" with Sir Stuart Bell.
He has also been asked to write a letter of explanation to the leader.
The party says it would be unacceptable if constituents were struggling to get hold of their local MP.
But Sir Stuart firmly denies that is the case.
He says he has no record of the calls.
But he says he does always respond to constituents who get in touch, and works hard to help local people with any problem.
In an interview with BBC Tees he said: "I'm a member of Parliament. We have a House of Commons switchboard that sits 24 hours a day all year long.
"There's not a single recorded call from this particular person. There is no recorded call on my office numbers.
"It's a total mystery to me. We do have answer machines because we get so many calls, but every call that is made and every message that is left is responded to."
The Teesside Gazette - which made the calls over three months - says it stands by its story though.
And this is not the first time questions have been asked about Sir Stuart Bell's commitment to constituency work in Middlesbrough.
The Labour MP acknowledges that he doesn't have a public office or hold surgeries.
But he says that is down to assaults on him during surgeries.
He therefore chooses to visit constituents in their homes.
He told BBC Tees: "I meet people every Friday in Middlesbrough, I go to their homes, I'm on the council estates.
"I have been attacked twice in my surgery. The person who attacked me still threatens me to this day, and threatened me during the general election.
"We found another way of dealing with it which is personal contact in the homes of the people who need to see me. Every Friday I'm on a council estate talking to people.
"Not a single person has ever complained about this. We deal with every case properly and thoroughly.
"My message to my constituents is I'm doing my job. They know I'm doing my job. Anybody who has a complaint or a matter is dealt with. We have letters surrounding us from people who write in saying thank you very much for the work we do."
The odd one defends him but some talk of the problems they have had contacting him. Others are disparaging.
Here's one typical comment: "Any chance of the Gazette placing a reporter on each estate one Friday night to see if he is telling the truth? Or better still, send one to Paris, then you're guaranteed an interview."
But Sir Stuart Bell will certainly be in Middlesbrough this week.
I am going out and about with him to hear his side of the story, and see him working in the constituency.
I will also be talking to his constituents to see what they think.
Sir Stuart has been Middlesbrough's MP for 28 years, and in seven elections has never come close to losing the seat.
He might well survive this furore too, but surely no MP can enjoy spending so much time justifying himself to constituents and colleagues.