Rail minister sends positive signals on East rail plans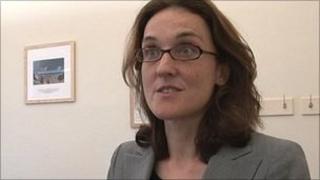 Rail Minister Theresa Villiers is optimistic about plans for a new multi-million pound railway station in Cambridge.
After discussing the project with MPs and the county council during a visit to the city, she announced that the government was interested in the idea.
"I think the county council have done some really impressive work on this project," she said.
"I've been pretty positive about it for a long time but I have come out of the meeting very optimistic.
"The good work has been done to establish whether the station is viable and I am confident progress can be made on this.
"I know the county council are very confident this station would pay for itself.
"Further work will be done to check those numbers but if we can make them add up there's a really good prospect of maybe sometime seeing the new station at Chesterton, which I know so many people would like."
Generating investment
Mrs Villiers added that the government would be prepared to consider putting calls for a new station into any possible future franchise.
She also pledged to look at the ideas put forward by South West Norfolk MP Elizabeth Truss to improve the Fen Line, which runs from Cambridge to King's Lynn.
The future franchise of National Express East Anglia for services to the east out of London Liverpool Street is up for tender next year after it had its franchise terminated by the government.
Mrs Villiers explained: "We are going to be moving to longer franchises and one of the reasons why we are doing that is because we believe it will generate more private sector investment in our railways.
"There's been significant public sector involvement over the last few years and that will continue but in addition we would like to see train operators with more of an opportunity to invest in new rolling stock and stations.
"We think the certainty given by a longer franchise will make it easier for them to do that and I'm very positive about the prospects of improvements coming with the new long franchise for the greater Anglia route.
"We're looking at franchises of around 15 years but it will vary in different cases.
"We think 15 years plus is a better model than the one we've had over previous years where simply there isn't enough time to get a return on an investment for the private sector."
She was even upbeat about the east west rail line. Its western section would link Oxford, Bletchley, Milton Keynes and Bedford.
Glimmer of light
The business case for the line asserts that it would generate more income than it would cost.
"I know that some great work has been done on that project," she said.
"I've looked at it myself, I've discussed it with the local MPs and the people behind the project.
"There's no doubt that it would require quite a lot of money to deliver so I can't by any means say it's a done deal but we will be considering that as part of the decisions on the funding for the railways for the next few years.
"The east west rail project is something that we will be looking at very carefully to see whether that could be included in the list of infrastructure improvements to be delivered in that period.
"We will look at it very seriously. We realise there's a lot of support for it both here and elsewhere."
It might be a long wait - but could there be a glimmer of light at the end of the tunnel?