Southampton objects to Liverpool cruise terminal plan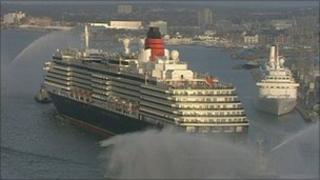 Campaigners aiming to prevent Liverpool rivalling Southampton as a cruise port have handed in a petition to 10 Downing Street.
It comes at the end of the government consultation over whether cruises can start and end in Merseyside.
Southampton's Chamber of Trade gathered nearly 12,000 signatures, claiming public funding of Liverpool's terminal is an unfair advantage.
It says each cruise visit generates £2m for Southampton's economy.
Port officials, MPs, business and council leaders in Southampton have objected to the development of cruise turnaround facilities in Liverpool.
Public funding of Liverpool's Pier Head development, including the cruise terminal, which opened in 2007, was made under the condition that it was only used for cruise stop-offs, not turnarounds.
In return for lifting the restrictions, Liverpool council has said it would pay back £5m of the £21m of state and EU grants used to build the terminal.
Associated British Ports (ABP), which owns Southampton Docks, argues that if the plans are approved, it would be a misuse of state funds.
'Level playing field'
Jimmy Chestnutt chairman of Southampton Chamber of Trade, who led the delegation to Downing Street, said: "We have no objection, providing Liverpool pay back that subsidy, if they want to go into the cruise industry and operate turnaround cruises.
"We are not concerned about competition. Southampton will fight on a level playing field - this is about subsidising a competitor.
"Any trade that goes from here [Southampton] will have an impact on the income of the florists, the taxi drivers, the restaurants and the people who work on and around the port. Let's not forget the real impact on people's livelihoods," he added.
A decision following the Department of Transport consultation on Liverpool's plans is expected by the end of the year.