Fire at industrial site at Lasham near Basingstoke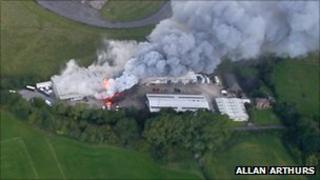 Firefighters spent the night tackling a large blaze at a battery recycling plant in Hampshire.
Police were also called to the industrial site beside Lasham Airfield near Basingstoke after the fire broke out at about 16:00 BST.
Roads in the village of Lasham were closed and 12 homes were evacuated.
The safety cordon was extended because of concerns about propane gas cylinders. There were no reports of injuries.
Hampshire fire service said there were approximately 300 tonnes of alkaline zinc chloride batteries and metal oxides involved in the fire.
At the height of the fire about 70 firefighters were involved. The operation was scaled down overnight, but crews remained at the scene, a fire service spokeswoman said.
Group Manager Jerry Leonard said: "Obviously with the components in the premises, particularly the large number of batteries, we've had some fairly substantial explosions to say the least."
BBC reporter Steve Humphrey on the scene reported hearing a series of explosions. Plumes of thick black smoke could be seen from miles around.
Glider pilots who had been flying from the airfield said they had seen canisters thrown into the air by the explosions.
John Simmonds of Lasham Flying Club, who had taken off just as the fire was taking hold, said: "It was getting quite dramatic, we could see the sheds and even some vehicles outside were on fire."
Among the Lasham residents evacuated from their homes, Louise Niven reported seeing the "really thick black smoke" and hearing the "popping noise" of batteries exploding on the site.
She has since been allowed back to her home.
Firefighters used specialist equipment including two hydraulic platforms to flight the blaze.