Supermarkets get the blame for boarded-up market towns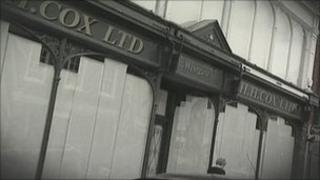 Shoppers who want to stop the supermarkets dominating our town centres may have a new champion.
A council leader from the East Midlands is to block plans in his area for town centre supermarkets to ensure the survival of the high street.
Permission for a Sainsbury supermarket has already been rejected.
Councillor Roger Begy, the Conservative leader of Rutland County Council, says he won't allow the supermarkets to turn his county town into a ghost town.
Survive and thrive
"We made ourselves very unpopular by turning down an application for a new Sainsbury's store in Oakham. But we felt so strongly that the town has to survive and thrive," he said.
He's determined to keep the supermarkets at arms length and avoid his high street shops from becoming run-down and boarded up.
It's become an issue since a senior Liberal Democrat labelled the Lincolnshire town of Grantham as a "ghost town".
Lord Matthew Oakshott, one of the country's leading retail developers, had criticised local planners in Grantham for allowing the supermarket giants to dominate its town centre.
He warned of the consequences for struggling smaller independent retailers.
"Stamford in Lincolnshire is a lovely town and has no empty shops in the High Street at all.
"Grantham, 20 miles away, also is quite prosperous but because far too many supermarkets have been allowed, the town centre is almost a ghost town," he told Radio 4's You and Yours programme.
From Grantham - rather than drive 20 miles south east to Stamford - take the road south west in the direction of Rutland and to the market town of Oakham, and you soon notice big differences.
There are no boarded up shop windows. There's no need.
The small number of empty premises are soon snapped up by new retailers. Oakham's high street has one of the highest proportion of independent shops in the Midlands.
There's a small co-op. Tesco moved in 10 years ago. But Sainsbury, Waitrose and Morrisons are waiting in the wings to tap into this affluent corner of the country.
Roger Begy says they'll have a long old wait. He wants to keep them well out of town.
"We don't need any more supermarkets. We are lucky here to have three local butchers on the high streets and three bakers. They are all independent traders.
"We need that mix so that Oakham remains a market town and not just another dormitory town. With supermarket development, there has to be a balance."
That's welcome news for the town's independent traders, such as jeweller Caroline Hodges, of Oakham's Chamber of Trade.
"We offer greater diversity. The supermarkets can't provide that more personalised service. Our customers are people and not just a number," she said.
Retail therapy
Downing Street's been taking notice of the financial difficulties facing many of our market towns.
David Cameron asked the TV retail guru Mary Portas, to investigate and come up with some solutions.
The supermarkets have been quick to reject suggestions that their aggressive expansion and price discounting are to blame for some of our boarded-up market towns.
The British Retail Consortium estimates that up to 12% of high street shops are vacant. But it pins any blame on the general economic situation.
The high street is being affected by the general economic situation says the British Retail Consortium
"Fewer people are shopping because households are facing high inflation, low wage growth and uncertainty about future job prospects," said Stephen Robertson, the Consortium's director general.
In the East Midlands, the number of people visiting shops over the past year - what the retailers call the footfall - fell by 3.2%. That's three times higher than the national average.
In the West Midlands, the footfall fell by 6.6%, one of the steepest drops in the UK.
When I made a mid week visit to Oakham, the high street was buzzing with shoppers.
Rutland has a history of independent spirit. That's reflected in the interesting variety of independently run shops in its county town.
If David Cameron wants to find some solutions to the declining high street in our market towns, he should bring his wife Samantha to Oakham for some retail therapy.