Analogue TV signal in parts of Yorkshire and Derbyshire switched off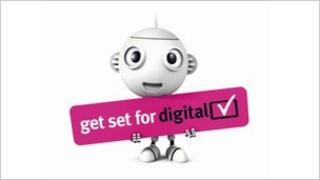 Analogue TV signals have been permanently switched off in parts of South Yorkshire and Derbyshire.
The digital switchover entered the second stage of the process on Wednesday and digital channels replaced the analogue channels.
All Freeview, BT Vision and Top Up TV viewers need to retune their equipment to regain missing channels.
Sky TV, Freesat and Virgin Media viewers will not need to retune their equipment.
Viewers receiving their signal from the Emley Moor transmitter will switch over later.
The second stage of the switchover took place between 06:00 BST and mid-morning, depending on the relay transmitters used to send signals.
Radio not affected
Viewers who are served by the Sheffield transmitter will need to retune their equipment on 27 September because of technical changes linked to digital TV switchovers in neighbouring areas.
The first stage of the switchover took place on 10 August when BBC Two ceased broadcasting in analogue from the Sheffield and Chesterfield transmitters.
The rest of the Yorkshire TV region will follow the same two-stage process, carried out transmitter by transmitter, until 21 September.
Radio signals are not affected by the switchover.
The BBC is running the Switchover Helpscheme to help people to convert their TV to digital if they are aged 75 or over, are eligible disabled, have lived in a care home for six months or more or are registered blind or partially sighted.
To find out more, call the Helpscheme on 0800 40 85 910.