Great Western Ambulance Service considers partnership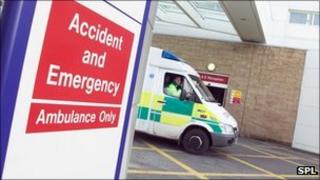 The Great Western Ambulance Service (GWAS) is considering a partnership with another organisation in a bid to save money and improve patient care.
The organisation, which employs 1,680 staff, said it was "not viable" to pursue an independent application to become an NHS foundation trust.
Chief executive Martin Flaherty said a partnership with another ambulance trust was preferred.
It is hoped that the process will be completed by October 2012.
"I am confident that this decision is the right thing for our staff and our patients and offers the best future for GWAS," added Mr Flaherty.
"By finding a trust that shares our values and our strategic agenda we will ensure that patients can continue to rely on our services in the future.
"It will also allow us to develop those services more quickly than we can do on our own."
'Strength and stability'
The work to establish a suitable partnership will be led by Peter Carr, the chair of GWAS, and is supported by NHS Gloucestershire and NHS South West.
"We fully support GWAS's decision to explore this option and ensure they have the strength, stability and resilience to succeed in the future," said chief executive of NHS Gloucestershire Jan Stubbings.
"We believe that this can only benefit the organisation and there will be a continuing emphasis on making sure that as many resources as possible are freed up to support frontline ambulance services and that performance continues to improve for the benefit of patients."
The Great Western Ambulance Service NHS Trust transports patients from Wiltshire, Gloucestershire and the greater Bristol area to appointments at various hospitals.
In the year 2009/2010, GWAS responded to more than 256,000 emergency calls.