Kent council criticised over £24m in tobacco shares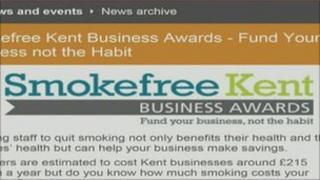 Kent County Council (KCC) has been criticised for investing nearly £24m in four tobacco firms as part of its pension fund portfolio.
It has invested about £13.5m in the Altria Group, £3.6m in Philip Morris £3.5m in Imperial Tobacco and £3.4m in Japan Tobacco.
The authority said the amount was 1% of all its investments and it had a duty to get the best return for its members.
Critics have said the council should avoid such companies.
Martin Dockrell, from the charity Action on Smoking and Health (ASH), said although the council was legally obliged to get the best return for investors it was not obliged to invest in tobacco.
'Totally unacceptable'
He added: "Kent is definitely at the upper end of the scale.
"We are aware of many councils and even NHS trusts that have invested in tobacco companies, one or two, but to have four such large investments is quite extraordinary.
"Share prices are high right now but the future for tobacco companies is grim with falling sales, tougher legislation and law suits from around the world, now could be a good time to cash in those shares and invest in something more sustainable."
Dr Julian Spinks, a GP based in Strood, also called on the council to reconsider its investments.
He said: "I'm very disappointed that they are actually investing public money in tobacco companies.
"It's totally unacceptable for a council that is going to take a lead on public health."
The Kent Superannuation Fund, worth £3.2bn, has more than 20,000 pensioners and 26,000 active members including KCC staff, teachers and other local government workers.
A Kent County Council spokeswoman said: "KCC runs a pension fund on behalf of 350 public bodies in the county.
"The fund uses external investment managers to undertake investments and the fund has total investments in stocks and shares of £2,350m.
"It is the external investment managers who decide which companies to invest in.
"The direct investments in tobacco companies currently represent 1% of our total equity investments.
"We have a financial responsibility to obtain the best possible return on investments of the pension fund, to keep down costs of the scheme as far as possible for us as an employer and ultimately for Kent taxpayers.
"To meet this responsibility, we do not impose restrictions on the companies that our external investment managers can or cannot invest in.
"However, we do monitor the activity undertaken by investment managers and, as with all our investment, we work to the UN principles of responsible investment."