Basildon residents fight to keep green spaces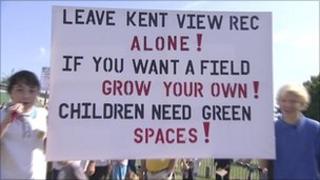 Residents angry at plans to build on recreation grounds have taken to the streets in Basildon.
They are battling to save green open spaces which are threatened by development plans.
The campaigners claim that treasured parkland and green spaces should not have to be given up to pay for the "huge multi-million pound debt" the council has run up.
They are also furious at proposals to build 500 new homes on the site of the old swimming pool at Gloucester Park.
Protesters say that a huge chunk of the park has already been lost to the new sports complex.
Residents have been running a series of separate campaigns to stop Basildon Council selling off green space to housing developers at Kent View Road, Northlands Park, Gloucester Park, Dry Street, Markhams Chase and land off Ballards Walk in Laindon.
Now they have united to demonstrate together.
Future generations
Karen Jacobs, 48, of the Vange Community Group, is campaigning to save Kent View Road playing fields: "All the different campaigns are coming together. We want to send a message to the council that we're not giving up on this.
"They should find somewhere else to build their houses and leave our children's playing fields alone," she said.
Christine Tuohy, 58, of Loxford, from the Northlands Park campaign, said: "People who make these decisions have got to be made to realise our children need these parks, not just for this generation, but future generations too."
John Winslow, 59, of Little Lullaway, Laindon, who is campaigning to save the playing fields off Ballards Walk, added: "The whole question of developing on playing fields is on everyone's mind at the moment, as they seem to be planning to build on every bit of green space going."
New play area
Cllr Tony Ball, Leader of Basildon Council, said: "Anybody is entitled to protest, and we respect this right. However, it is vital to remind protestors that the land remaining at Kent View Road will be invested in and improved.
"There will still be space for dog walking, kick-abouts and general recreation, as well as a new play area.
"The development will create much needed new community housing and has helped to fund the Sporting Village, without which we would lose 90% of the borough's school swimming programme as the Gloucester Park pool comes to the end of its life."