Ethel Austin: Entrepreneur Sue Townsend buys chain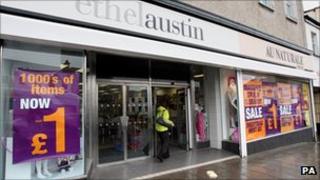 Budget clothing chain Ethel Austin has been bought from an administrator by entrepreneur Sue Townsend.
The brand, which was established in Liverpool in the 1930s, is now owned by Ms Townsend's Ashloch company.
Ethel Austin, which went into administration in February 2010, will retain its 62 stores, mostly based in north-west England, and 470 staff.
Ms Townsend began her career with the Storehouse Group working with BHS and Mothercare.
"I am delighted with the conclusion to the purchase of the Ethel Austin chain and I am looking forward to the opportunities and challenges of returning this once great brand back to profitability," said Ms Townsend.
Terraced house
The Altrincham-based chain was bought from administrators RSM Tenon by Ms Townsend's firm Ashloch Ltd.
The company was established in 1934 by Ethel Austin in the front room of her terraced house in Liverpool.
In its heyday it traded in 270 stores in UK high streets.
Ms Townsend was the winner of the inaugural Everywoman Director of the Year Award 2009.
She has also been a director of bookshop chain Blackwells and holds non-executive directorships with the Edward De Bono Foundation UK and Global Thinking Systems.