Fight over Nantwich house plans on Civil War battlefield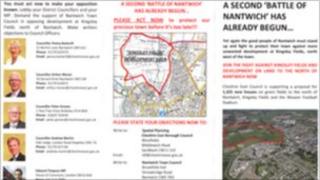 A campaign to prevent house-building on greenfield sites in south Cheshire is being billed as the second Battle of Nantwich.
Leaflets have been distributed warning of the threat of new houses on the 1644 Civil War battle site.
Opponents call for the residents of Nantwich to fight against the development of Kingsley Fields.
Cheshire East Council said it is "one of several hundred sites suitable for potential housing in the future".
'Development unlikely'
The leaflet claims the local authority is planning to build over 1,300 homes on the land.
Contact details and photographs of local MP Edward Timpson and four councillors are included as local people are urged to lobby their objections.
Independent councillor, Arthur Moran, says the leaflet is nothing to do with him, but he does think there are plenty of brownfield sites with planning permission that should be built on first.
A Cheshire East Council spokesperson said: "The site of the 1644 Battle of Nantwich is identified on the English Heritage Register of Historic Battlefields.
"It is most unlikely that the council would permit any development which adversely affected the historical, archaeological or landscape value of the battlefield site."