Life-size sport sculptures greet Heathrow Airport tourists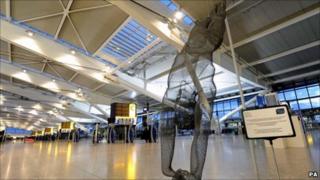 Passengers at Heathrow Airport are being greeted by life-size wire sculptures of a diver and a sprinter in an exhibition marking the 2012 Games.
The full-scale studies of Tom Daley and Jason Gardener are standing in Terminal 5's departure area.
A further eight models of athletes make up the Sculpture and Sport: A Celebration For 2012 exhibition at the west London airport.
A wider collection of 30 full-scale pieces will be displayed around the UK.
Sarah Lewis, from Heathrow Airport, said the pieces "truly celebrate British sporting talent and artistic prowess".
The collection of models will be exhibited at the airport until 30 September and at the Oxo Tower Gallery on London's South Bank during the Games.