'No stone unturned' pledge over bear attack inquiry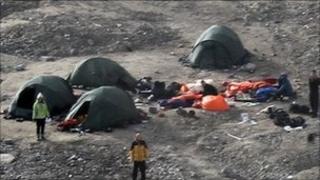 The organisation behind the expedition to Norway in which a boy was killed by a polar bear has pledged to leave "no stone unturned" in its investigation.
Eton pupil Horatio Chapple, 17, from Salisbury, died on Friday when he was mauled at a camp in Svalbard.
Two schoolboys and two leaders are in hospitals in the UK.
Edward Watson of organisers, the British Schools Exploring Society (BSES), said it was gathering witness statements and reviewing procedures.
Their aim was to "understand if anything could have been done to prevent this tragic incident happening".
He added: "A young man has lost his life, and four expedition members were injured.
"We remain committed to supporting those affected through this particularly difficult time in their lives."
Scott Bennell-Smith, 17, from St Mellion in Cornwall, was injured in the attack.
One of the expedition's leaders, Michael "Spike" Reid, 29, from Plymouth, who shot the bear dead is now said to be in a stable condition at Plymouth's Derriford Hospital.
The BSES said Mr Reid and the other leader Andrew Ruck, 27, from Brighton, suffered severe injuries in the attack.
Patrick Flinders, 16, from Jersey, is in hospital in Southampton.
The organisation said the eight uninjured members of the group involved in the incident had already returned to the UK and were with their families.