Afghan boy may have triggered bomb which killed Marine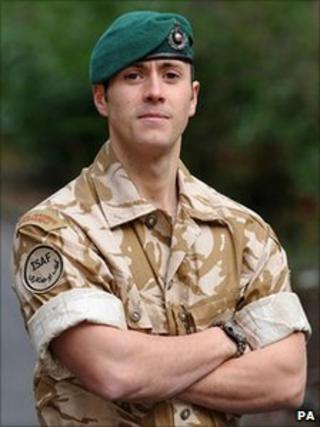 A Royal Marine may have been blown up by a 14-year-old Afghan boy who was offered $80 by the Taliban, an inquest has heard.
Yorkshire-born Cpl Stephen Curley, 26, from 40 Commando, who lived in Exeter, was killed in Helmand in May 2010.
The boy, who was turned in to police by his father, confessed and was imprisoned by Afghan authorities.
Greater Devon Coroner Dr Elizabeth Earland said she was adjourning the inquest to obtain further evidence.
The inquest at County Hall in Exeter heard Cpl Curley, who was born in Dewsbury, West Yorkshire, was leading a patrol through the southern Green Zone around Sangin in Helmand when he was caught in a massive explosion that threw the rest of his patrol to the ground.
Taliban trigger man
He suffered "catastrophic" injuries and died instantly.
The inquest was told when the boy's father handed him to the Afghan National Police, he told them his son had been acting as a Taliban trigger man.
However senior British officers could not be certain he was responsible for the Royal Marine's death.
Cpl Curley's widow Kirianne, 28, who has a 17-month-old son William, only learned of the boy's possible involvement hours before the start of the inquest when she was shown statements from two Royal Marines officers.
Lt Col Paul James, who was in charge of operations with Taunton-based 40 Commando at the time, said he had been informed of the boy's confession.
"I received a report from the Afghan national police that a 14-year-old boy had been handed in by his father for being the trigger man in an IED attack," he said.
"The boy was named as Aga Wali and he admitted firing the device which killed a Royal Marine in Southern Sangin on a date which corresponded to the explosion which fatally wounded Cpl Curley."
'Reasonable' assumption
Cpt Dom Rogers said: "It was brought to my attention the Afghan national police had detained an adolescent named Aga Wali and there was speculation he had been handed in by his father.
"He was questioned by the local chief of police and I was present during the latter stages with an interpreter to ensure it was conducted in the correct manner.
"In my presence he admitted activating an IED and acting as the trigger man. He was unable to read a map but was able to describe the ground and it fitted with that where Cpl Curley was wounded fatally.
"From this information and the time and date when he said the event took place it was reasonable to assume he was responsible for initiating the IED that killed Cpl Curley.
"I was told the chief of police had taken the initial confession and there had been a written statement which he had signed.
"He was flown to Lashkar Gar by a US military helicopter and tried through the Afghan justice system. He was arrested and detained by the Afghan police and remained in their custody throughout under Afghan law.
"I was later told by the chief of police he was given a prison sentence but we have no further details about the sentence."
Dr Earland said: "All I will say is that any report to this court from the Afghan National police has yet to be received and I am told the matter is being pursued by agencies in theatre.
"We have heard all the evidence but there is further evidence that can be obtained.
"It may take some time but I am adjourning the inquest until some date in the future when it can be retrieved."