Footballer brother of Sunderland's Titus Bramble jailed for rape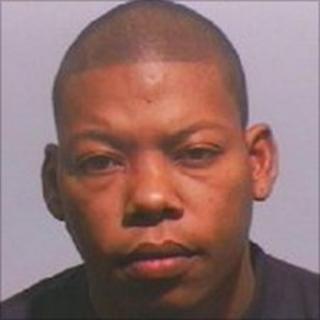 The brother of Sunderland footballer Titus Bramble has been jailed for raping a 19-year-old woman.
Tesfaye Bramble, an ex-footballer, had denied raping his victim at the Vermont Hotel in Newcastle in September 2010.
The 31-year-old, from Ipswich, was found guilty after a four-day trial at Leeds Crown Court earlier this year.
He was jailed for four-and-half years at the same court on Friday. Titus Bramble was also arrested, but later released without charge.
Sentencing him, Judge Geoffrey Marson QC said Tesfaye Bramble had shown "not a shred of remorse".
The victim, who is now 20, said the incident happened after she met the Bramble brothers and their entourage in the VIP section of Madame Koo's bar, Newcastle, on 22 September last year.
The trial heard that the footballers were in the bar following a Sunderland match and had booked three rooms at the Vermont.
The woman said one of the men, Simon Pharaoh, helped her take her drunken friend home to Jesmond.
She then drove him back to the hotel and accepted his invitation to go in.
'Try my luck'
The victim said that, after chatting to the group, she went to sleep.
Tesfaye Bramble claimed he had got into the bed to "try my luck" and that sex had been consensual.
The trial heard the woman left the hotel shortly afterwards.
She said: "As I was driving, I was retching. I was in shock. I cried like I've never cried in my life."
Sentencing Tesfaye Bramble, Judge Marson said: "It has been described as opportunistic and it was to some extent.
"There was only one reason why you went back to the room... and that was to have sexual intercourse with her.
"I am entirely satisfied she was asleep at the time and was incapable of giving her consent and you knew it.
"You, and those involved in such activities, seem to have an attitude borne out by the contents of the pre-sentence report that says when young women go back to hotels in those circumstances with footballers, they go back for one reason only and that is to have sexual intercourse.
"They have a right to be protected and she had a right to be there and to be left alone and you abused it."
After the sentencing, Acting Det Insp Phil Mordue, of Northumbria Police's rape investigation team, said: "This was a difficult trial for the victim in this case, who should be praised for the strength, courage and belief she showed throughout."
Tesfaye Bramble had played international football for Montserrat and appeared in the Football League for Southend United and Stockport County.