TJ Hughes sets closure dates for 22 stores next week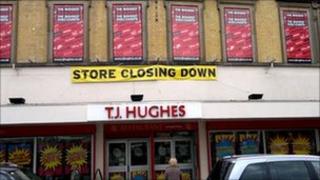 Twenty-two TJ Hughes stores will close in the next two weeks with the loss of 1,062 jobs, administrators have confirmed.
Earlier in the week administrators Ernst and Young announced the sale of four stores, from the Liverpool-based discount department chain.
Twenty English and two Scottish shops will shut between 10 and 14 August, with closing sales starting at once.
The administrators are looking for buyers for the remaining 31 stores.
Tom Jack, joint administrator, said, "It is regrettable that we have had to schedule these store closures and we are extremely grateful to the employees and management at all the group's stores, at the head office and at warehouses for their loyalty and support during what has been a very difficult and uncertain time.
Sale negotiations
"We continue in negotiations with a number of interested parties for a large number of the remaining stores in the group's portfolio," he added.
On Tuesday the sale was announced of shops in Liverpool, Eastbourne, Glasgow and Sheffield to Lewis's Home Retail, a company associated with Speke-based homewares group Benross.
Benross, also Liverpool-based, supplies homewares, electrical, lighting, toys and leisure products to retailers across the UK. Lewis's is its retail arm.
TJ Hughes called in the administrators in June - putting 4,000 jobs at risk - after a difficult period of trading.
GA Europe bought the chain's £10m debt and is overseeing clearance sales at the stores across the country.