Adil Basharat school gates murder: Man jailed for life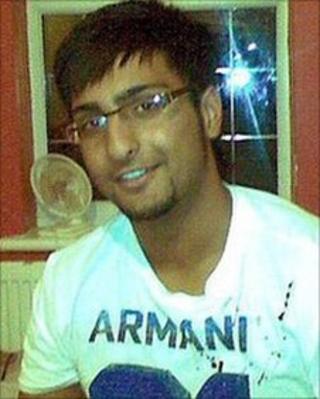 A man has been jailed for life for the murder of a boy who was stabbed with a broken golf club outside his school in a case of mistaken identity.
A-level student Adil Basharat, 16, of Greenleys, Milton Keynes, was attacked last November at Kingsbrook School in Deanshanger, Northamptonshire.
He had been wrongly identified in a revenge attack over stolen drugs.
Adam Moore, 20, of Bridge Road, Cosgrove, had denied murder at Northampton Crown Court.
He was convicted on Monday and showed no emotion when Judge Charles Wide QC told him he must serve a minimum of 16 years before he could be considered for parole.
Moore was also found guilty of violent disorder and not guilty of conspiracy to cause grievous bodily harm.
Group attack
Jake Batten, 22, of Mallings Road and Freedy Wilson, 20, of Glebe Road, both from Deanshanger and Daniel Anderson, 20, of Horsefair Green, Stony Stratford, were acquitted of murder and manslaughter but found guilty of violent disorder.
They were each jailed for three years.
A fifth man, Billy Billingham from Milton Keynes, has been cleared of all charges.
The judge told Moore: "You took a golf club, that's bad enough as a weapon.
"You broke it hitting or hitting at Adil Basharat, it was then a lethal weapon and you used it to stab and, as the jury found, you deliberately stabbed Adil Basharat with that weapon.
"You must have known what you had done. It was a deliberate act intended to cause really serious harm."
During the trial, jurors heard that Adil and two friends were set upon by a group of men armed with weapons, including a golf club, a screwdriver and a metal bar.
Prosecutor Benjamin Aina QC said: "They also attacked the schoolchildren with their fists and with their feet.
"During the attack, the golf club handle broke and the sharp end of the golf club was thrust into the pelvis of one of the schoolboys, Adil Basharat.
'So frightened'
"That action caused the main artery to be severed and sadly Adil was pronounced dead [two days later]."
Judge Wide also told the court Adil was "entirely unconnected" with any dispute the gang had with another person.
Speaking outside court after the case, Adil's 19-year-old sister Sobia Basharat said: "It has been the hardest thing in the world to come to terms with the tragic fact that I'll never see my brother grow into a man.
"I'll never see him go to university, become the accountant he wanted to, get married, have children of his own and I'll never see him grow old.
"Adil was not in the wrong place at the wrong time. He was at school, he was on a break with his friends just outside of school when he was attacked in broad daylight.
"He must have been so frightened."