Milly Dowler: Prison service liable for attack on killer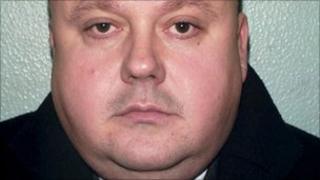 The prison service has admitted liability after Milly Dowler's killer was attacked in jail.
Levi Bellfield claimed he suffered cuts in the incident at Wakefield Prison in West Yorkshire last year, before his trial for murdering 13-year-old Milly.
Lawyers acting for Bellfield said they had been instructed to seek compensation for personal injury.
HM Prison Service said: "An admission of liability does not mean compensation will automatically be paid."
The statement added: "We have not received a detailed claim for compensation from Mr Bellfield or his legal representatives.
"For this reason it would be entirely inappropriate to comment any further at this stage."
'Duty of care'
Bellfield, a former wheelclamper and nightclub bouncer, was sentenced to a whole-life term in June after being convicted of abducting and murdering Milly Dowler in March 2002.
In 2008, he was given a whole-life term for murdering Marsha McDonnell, 19, in 2003 and murdering Amelie Delagrange, 22, and attempting to murder Kate Sheedy, 18, in 2004.
Jeremy Moore, of Carter Moore solicitors, said: "Our client was injured after the prison authorities, in breach of the duty of care which they owe to every prisoner, housed him on a wing of the prison that was unsuitable for a prisoner of his category.
"Subsequently, Mr Bellfield was attacked with a makeshift weapon by another prisoner causing injuries to his face and mouth.
"In February 2011 the prison authorities admitted full liability for this incident.
"We would add that, as with every UK citizen, our client has a right to seek compensation for injuries resulting from a negligent act or omission as a result of which he has suffered injury."