Holidays 4 UK: Brighton tour operator collapses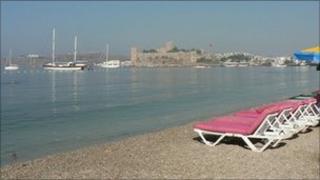 A tour operator with more than 12,000 holidaymakers currently abroad has gone into administration.
Brighton-based Holidays 4 UK, which also traded as Aegean Flights, sold packages and flights to Turkey.
The Foreign Office said the Civil Aviation Authority (CAA) would ensure that all customers were able to fly home as planned.
It said customers should arrive at the airport in time to check in for their flights as normal.
Travel association Abta said there were currently 12,800 people abroad with the company and all were in Turkey.
Paul Yates, from Hull, who is on a holiday in Icmeler, after booking through the company, said there was "mass panic" among the holidaymakers.
He said he was with a party of 12 in an apartment block where 20 other rooms were also occupied by Holidays 4 U customers.
"I found out this afternoon on my way back from the market when someone told me 'the company's gone bust'," he said.
"Everyone's congregated around the pool in the middle of the apartments and there's a mass panic round the pool as no one knows what's going on."
He said someone from the company had told them their return flights might be from a different airport.
But he added: "When we questioned her she seemed very ignorant and said she didn't know what was going on.
"There's people here who are due to fly back tomorrow and they're not sure what is happening. It's all very worrying and nobody's told us anything."
Staff redundant
In a statement, Abta said the tourists should all get home at the end of their holiday although it warned the CAA might not be able to get them back to their designated airport.
It said the company also had 20,000 forward bookings but it was not known how many passengers those bookings were for.
Abta said all the forward bookings would be cancelled but holidaymakers should get their money back under the Air Travel Organisers' Licensing Scheme (Atol).
Ian Oakley-Smith, joint administrator and director at PricewaterhouseCoopers (PwC), said: "The company has suffered because of the difficulties faced by the travel industry during 2010 and 2011, as a result of the economic downturn."
He said the company would cease operating immediately and most of its 18 staff had been made redundant.
Atol spokesman David Clover said: "There is never a good time for a travel firm to fail; unfortunately the height of summer is the worst possible time."
Aviation minister Theresa Villiers said: "This is a worrying time for those passengers whose holiday plans have been disrupted.
"But the CAA have a wealth of experience in dealing with these sorts of situations and are putting systems in place to get people home."
She also said the incident served as a reminder of the importance of good financial protection for holidays.
Advice to travellers
PwC said passengers who had booked with the company for future flights, including one from Manchester to Dalaman at 21:00 BST on Wednesday, should not travel to the airport and should refer to the CAA for more information.
The administrator said passengers who booked through a travel agent were advised to contact that agent in the first instance.
It said the Atol website was being updated regularly to provide details of return flights for passengers currently on holiday.
Holidays 4 UK had an annual turnover of about £35m.
Also trading as Holidays 4U, the company flew from a number of UK airports, including Belfast, Cardiff, Bristol, Gatwick, Edinburgh and Glasgow. The company generally used Onur Air, a Turkish low-fare airline.