Accused Fiona Donnison 'could not say children's names'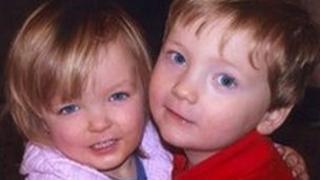 A mother could not bring herself to say the names of her two young children after she allegedly murdered them, a court has heard.
Fiona Donnison, 45, referred to three-year-old Harry and two-year-old Elise Donnison as "my younger children" according to a forensic psychiatrist.
Their bodies were found in holdalls in the boot of Ms Donnison's car near the former family home in East Sussex.
Ms Donnison, of Lightwater, Surrey, denies two counts of murder.
Lewes Crown Court has been told Ms Donnison walked into Heathfield police station in a distressed state on 27 January last year and told police she had killed the children.
Prosecutors allege she murdered them to hurt their father, Paul Donnison, 48, following the breakdown of their relationship.
"She found it impossible to say Harry and Elise's names," Dr Mari Harty, of the Shaftesbury medium-secure mental health clinic in London, told the jury on Monday.
"She referred to them as 'my younger children'.
"It has only been in the last three to four months that she has been able to say their names."
Dr Harty said she believed Ms Donnison was suffering from a mental illness at the time of the killings but could not say whether the break-up of her relationship was the trigger.
She was suffering from a number of stressful events in the months leading up to the children's deaths, including being made redundant and moving house.
"She was depressed and the threshold for violence is reduced with depression," said Dr Harty.
"Seventy per cent of mothers who kill their children have been suffering from depression and a third of mothers who kill their children also try to kill themselves."
Former city worker Ms Donnison was not married to her partner and changed her name to his by deed poll.
The court heard Mr Donnison had possibly started another relationship part-way through a reconciliation with her.
"If I remember, Fiona Donnison had read a text on his mobile phone and she suspected he was seeing another woman and was not taking their reconciliation seriously," said Dr Harty.
The trial continues.