Stolen Lowry art thought to be found as men are charged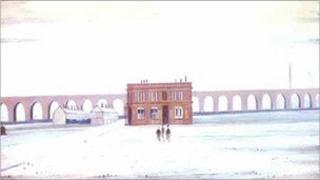 Two men from Merseyside have been charged with handling stolen goods, including paintings which could be stolen LS Lowry works.
The Lowry paintings, worth an estimated £1.7m, were taken from a Greater Manchester art dealer who was tied up by raiders at his house in 2007.
A man, 41, from Halewood, Merseyside, has been charged with handling stolen property and drug dealing.
Another man, 38, of Halewood, is also charged with handling stolen goods.
A third man, aged 33, also from Halewood, has been charged with drug dealing.
Pencil drawings
Art dealer Ivan Aird was tied up by a gang, who also threatened to kill his wife and daughter, during the robbery at their house in Cheadle Hulme in 2007. A man was subsequently convicted of the raid.
The North West Regional Crime Squad is trying to verify whether the paintings found in their raid on a house in Halewood are genuine.
Police are checking paintings believed to include Tanker Entering the Tyne, worth £600,000, and The Viaduct, valued at £700,000.
Other works taken in the 2007 robbery, three pencil drawings, are also thought to have been recovered.
Mr Aird, whose father was a friend of Lowry, ran an art dealership business from his house.