Report into paedophile priests Cotton and Pritchard investigated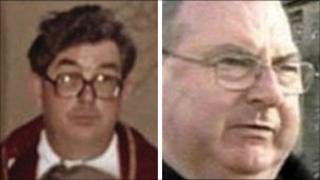 The Church of England is starting an investigation into how inaccurate information was published in a report on two paedophile priests.
The report, by Baroness Elizabeth Butler-Sloss for the Church, looked at how historic claims of abuse by two Sussex priests were handled.
Lewes and Hastings Archdeacon, the Ven Philip Jones, denied there had been a cover-up.
"The Church has gone to great lengths to make sure that is not the case."
The report followed a review by Baroness Butler-Sloss into the cases of Roy Cotton and Colin Pritchard, who abused children in the 1970s and 1980s.
Pritchard served as the vicar of St Barnabas, Bexhill, until 2007 after being arrested over sex abuse claims. In 2008 he pleaded guilty to sexually abusing two boys and was jailed for five years.
The offences took place while he was parish priest at St Andrew's Church in Wellingborough, Northamptonshire.
The court heard that Cotton had been involved in the offences but died in 2006, two weeks before Pritchard was arrested. Cotton worked as a priest in Brede, near Rye, in the 1990s.
Cotton was ordained in 1966, despite having a conviction for indecently assaulting a choir boy in the 1950s, and went on to abuse at least 10 boys from Eastbourne.
Inaccuracies in the Butler-Sloss review came to light after a BBC investigation.
Wallace Benn, Bishop of Lewes, told the baroness that he had given Cotton permission to officiate in 1999 to permit him to celebrate communion in the nursing home where he was then living.
But the BBC discovered he was not admitted to the nursing home until September 2003.
A spokeswoman for the Diocese of Chichester said last week new information had come to light since its publication of the report, adding Cotton had been ill from 1999 onwards and may have spent some time in hospital.
The archdeacon said Bishop Benn "maintained consistently" that he had understood his information he gave to be accurate.
And he said the report was still credible.
"The main thrust of the report relates to safeguarding practice and the recommendations she has made are full and entirely to the point," he said.
"We have taken the recommendations on board in their entirety.
"Ultimately our priority is for the safeguarding of children."
Bishop Benn is away on sabbatical and was not available for comment.