Fiona Donnison 'admitted killing her children'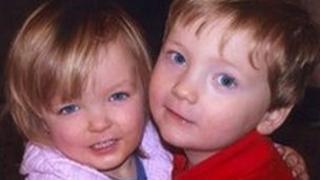 A woman walked into a police station and said: "I've killed my children", a jury has heard.
Police worker Fiona Mepham said she had been at Heathfield police station in East Sussex in January 2010 when Fiona Donnison had come in and confessed.
The bodies of Harry and Elise Donnison, aged three and two, were discovered in in the back of a car parked nearby.
Ms Donnison, 45, formerly of Lightwater, Surrey, denies two counts of murder at Lewes Crown Court.
Mrs Mepham, who was working as a police neighbourhood support officer, said Ms Donnison had told her: "I've come to hand myself in."
She told jurors she had noticed Ms Donnison had blood on her palms and a cut across her left wrist when she had gone in at about 1045 GMT on 27 January last year.
'Most horrific noise'
Former City worker Ms Donnison collapsed in a heap before going on to say her children were at her friend's house in nearby Punnett's Town, Mrs Mepham said.
The police worker said Ms Donnison had then "grabbed her stomach very tightly and screwed her face up and then let out the most horrific noise".
The court heard Ms Donnison was later found to have taken a large but unknown quantity of sleeping tablets.
Jurors previously heard that police officers searched the local area for the children.
They found their bodies zipped up in two holdalls locked in the boot of Ms Donnison's car parked a few streets away.
Post-mortem examination results showed the children probably died from asphyxiation.
Living apart
Earlier, prosecutor Christine Laing QC said the trial would look closely at the 12 days leading up to their deaths.
Ms Donnison and the children's father, Paul Donnison, had been living apart since the previous September.
Ms Donnison had moved into a house in Lightwater, Surrey, with Harry and Elise and her two teenage children from a previous relationship.
Mr Donnison had stayed in the family home in Heathfield, which was named Meadowside.
The couple had attempted a reconciliation but on 15 January they decided to end their relationship.
Three days later, Ms Donnison made a complaint to police that Mr Donnison had assaulted her.
He was arrested and released on bail with a condition that he was not allowed to contact his former partner.
Ms Laing said Ms Donnison had continued to go to Meadowside without warning on numerous occasions in the days leading up to the children's deaths.
'Pure evil'
On 24 January, it prompted Mr Donnison to call police himself, the court was told.
The officers who attended Meadowside advised Ms Donnison that she should leave but she was obstructive, Ms Laing said.
She said Mr Donnison had agreed to spend the night at a neighbour's house and had said goodnight to the children.
"Unfortunately that was the last time he saw either of his children alive," Ms Laing added.
The next day Mr Donnison changed the locks on the house but was stunned when the defendant threw a brick through a window to gain access, the court heard.
Ms Laing said that when Ms Donnison finally left that day, "she gave Paul Donnison a look which he described as pure evil".
Ms Laing said she had become extremely jealous of his new relationship with a woman.
The barrister said she used the children as "ultimate pawns" to "truly wreak revenge" on their father.
The court also heard that Ms Donnison's first daughter with Mr Donnison, Mia, had died of suspected cot death in April 2004 when less than a year old.
The jury was read a letter from Ms Donnison to her two teenage sons, now aged 15 and 18.
In the letter, which was found in her car, she wrote: "By the time you read this I will have gone to be with Harry and Elise and Mia.
"I'm so sorry that I won't be there to see you grow up. I loved you all more than life itself."
The trial has been adjourned until Wednesday.