Brian Haw's funeral held in Redditch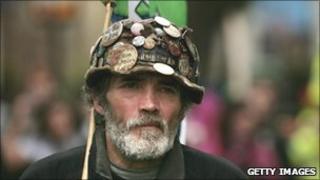 The funeral has taken place of anti-war campaigner Brian Haw who has died from lung cancer aged 62.
Mr Haw, of Redditch, Worcestershire, set up camp in London's Parliament Square in 2001 in protest against UK and US foreign policy.
In March 2011, a High Court ruling forced him to move to the pavement.
His daughter Maria, speaking ahead of the funeral at Redditch Crematorium, said she was "very proud" of him for "standing up for what he believed in".
'People's attention'
She added: "We supported him. Dad did go to my brother's graduation. He did come home every now and then.
"He came to see me when I first moved into my house.
"I think he's brought [to] a lot of people's attention what's happening in the world."
In a statement posted on Mr Haw's website, his family said he died on 18 June in Germany, where he had been receiving medical treatment.
Mr Haw set up camp in Parliament Square Gardens on 2 June 2001, in response to sanctions against Iraq. His protest increased after the invasions of Afghanistan and Iraq.
Over the past decade, Mr Haw had fought a battle with the authorities to keep his camp in place.
In March this year, Mayor of London Boris Johnson won a possession order to evict him from Parliament Square Gardens, which is owned by the Greater London Authority (GLA).
Mr Haw was born in 1949, initially living in Barking, Essex. He was a member of the merchant navy, ran a removals business and worked as a carpenter.
The campaigner lived with his wife Kay and his seven children before starting his Parliament Square protest.