Celebrity food leftovers for sale at Cornwall cafe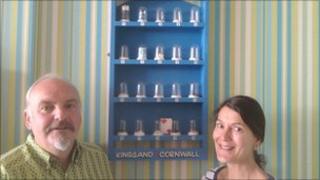 A Cornish cafe is preparing to sell off some odd exhibits - in the shape of celebrity leftover food.
The crumbs of Michael Winner's lemon drizzle cake and Jan Leeming's ginger dessert are among the items on offer.
For several years The Old Boatstore cafe in Kingsand has been collecting crusts of sandwiches and remains of dessert munched upon by celebrities.
Michael and Francesca Bennett have owned the seafront cafe since 2002.
No special steps have been taken to preserve the exhibits but none are so far showing any signs of mould.
Doherty's toastie
The collection was prompted by a visit from photographer David Bailey.
The cafe's owners said they were so pleased he had come in that "we kept part of his sandwich as a joke [and] it just grew from that".
The remains of rock star Pete Doherty's cheese, tomato and pesto toastie is another tasty attraction in their "Museum of Celebrity Leftovers".
The tiny museum itself is contained on shelves housing 20 items of food. The leftovers are displayed under small glass domes. Now the cafe and its exhibits are for sale.
Mr Bennett said: "We've been doing it for the best part of 10 years now. It's a family business and our boys are leaving home and going to university so it seemed time for a change really."
The couple have in mind the type of buyer they are looking for.
"Somebody who is equally odd I suppose," said Mrs Bennett. "I was hoping someone like Peter Blake, the artist, would want it for his Museum of Everything because that is quite quirky.
"It didn't cost us much but it's the individuality of it. But for the right person it would be worth a couple of bob I expect."